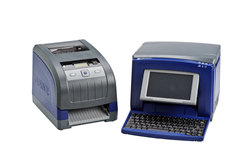 The solution provided by Brady is proving to be transformative. We are proud of our partnership that has not only resolved an issue, but saved valuable resources and improved customer satisfaction.
MILWAUKEE, Wis. (PRWEB) August 30, 2016
Brady (NYSE:BRC), a global leader in industrial and safety printing systems and solutions, today announced its contract with Grand Rapids, Michigan, to provide labeling solutions for the city's 96,000 residential refuse and recycling carts, and 20,000 construction dumpsters. The city is using Brady's BBP®33 and BBP®31 printers, durable vinyl label materials and LabelMark™ software to solve collection cart identification challenges.
The Grand Rapids "Pay-As-You-Throw" curbside refuse and recycling collection program provides residents with smart carts that each contain an RFID chip. The carts are then RFID-scanned upon collection to charge the resident based on refuse cart size, while recycling is free and includes a point-based rewards program.
"While this program has successfully decreased waste disposal, increased recycling participation and improved waste management efficiency, occasionally it's been a challenge to keep track of the smart carts," says Public Services Director James Hurt with the city of Grand Rapids. "Since these carts were only identifiable with an RFID scanner, it was difficult to determine who owned which cart, particularly when carts were moved or located in shared collection areas, such as apartments or multi-units. The lack of visual identification on the carts led to some confusion and inaccuracies in charging the right resident for their refuse."
"To solve their identification challenge, the city reached out to their distributor for an easy-to-use portable label printing product with durable materials that could withstand Michigan winters," says Matt Sinkovich, territory manager for Brady. "This distributor came to Brady and we began developing an easy-to-use and effective solution to help the city make 200-300 uniform, 4x8-inch labels per day with the service address printed on them to offer at-a-glance identification on the smart carts."
Brady's solution includes durable vinyl label materials and two label printers, including a BBP31 printer installed in a trash collection truck with an inverter to allow workers to create labels on-the-go for carts. It also includes LabelMark6 label creation software used on the BBP33 printer to allow workers to easily import spreadsheet data and print the cart labels needed for the residents on their route.
This effort not only assisted in collection employees with identification but it helps customers know which cart belongs to their address. The city of Grand Rapids believes the new smart cart labeling system from Brady will result in improved customer service, enhanced efficiencies, decreased cart replacements and reduced billing disputes.
"The solution provided by Brady is proving to be transformative," Hurt said. "We are proud of our partnership that has not only resolved an issue, but saved valuable resources and improved customer satisfaction."
For More Information
For Brady's complete product offering, visit BradyID.com.
About Brady Corporation:
Brady Corporation is an international manufacturer and marketer of complete solutions that identify and protect people, products and places. Brady's products help customers increase safety, security, productivity and performance and include high-performance labels, signs, safety devices, printing systems and software. Founded in 1914, the Company has a diverse customer base in electronics, telecommunications, manufacturing, electrical, construction, medical, aerospace and a variety of other industries. Brady is headquartered in Milwaukee, Wisconsin and as of August 1, 2015, employed approximately 6,400 people in its worldwide businesses. Brady's fiscal 2015 sales were approximately $1.17 billion. Brady stock trades on the New York Stock Exchange under the symbol BRC. More information is available on the Internet at bradycorp.com.
# # #