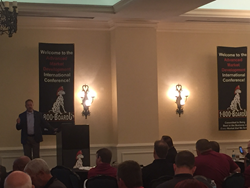 Jacksonville Beach, Florida (PRWEB) August 29, 2016
Media contact: Dan Karolewicz
JACKSONVILLE, FL AUGUST 26, 2016
1-800-BOARDUP, a leading international network of emergency structural stabilization companies specializing in disaster and emergency response, had a record vendor turnout at it's 2016 annual Advanced Market Development (AMD) Conference, held August 14-16 at the Westin Riverwalk in San Antonio, Texas.
More than 75 restoration business owners and professionals gathered at the event, where the owners and professionals of 1-800-BOARDUP's 100 offices networked and eagerly shared their unique experiences and best practices in disaster and emergency response.
1-800-BOARDUP is now planning to offer a variety of sponsorship levels to vendors showcasing their products and services at next year's conference to be held in Charlotte, NC, at the end of July 2017. Sponsorships are limited and available on a first-come, first-serve basis. Interested vendors are encouraged to contact Andre Martin at 1-800-585-9293 for information.
The morning after the conference concluded, 1-800-BOARDUP also had a record turnout for its much anticipated annual golf tournament, a crowd favorite, where all proceeds benefit the International Association of Fire Chiefs Foundation.
The 1-800-BOARDUP AMD International Conference concluded just prior to the start of the International Association of Fire Chiefs (IAFC) annual conference and expo, Fire-Rescue International (FRI) 2016, held August 17-20 at the Henry B. Gonzalez Convention Center in San Antonio, Texas. 1-800-BOARDUP is a 5 Bugle Partner in the IAFC corporate Bugle Program, its highest level, which represents the company's profound, ongoing commitment to all fire services and first responders.
1-800-BOARDUP is a values-focused organization that provides comprehensive recovery services to fire victims in need. While each office is independently owned and operated, 1-800-BOARDUP is the largest franchise company that specializes in emergency response services for disasters. With locations throughout the United States and Canada, 1-800-BOARDUP offices serve more than 120 million people.