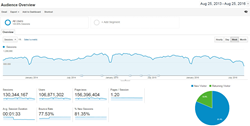 "This will be an ideal acquisition for the right Corporate Venture Capital fund as a match to their brand strategy, or an established Private Equity Group's portfolio." - Rob Toth, OODIENCE
Vancouver, BC (PRWEB) August 29, 2016
OODIENCE, specializing in audience-driven platform and media channel sales and acquisitions has been retained as exclusive intermediary for one of the oldest and largest vertical question-and-answer sites.
Ranked consistently as a Top 10,000 site in the world (source: Alexa), with 35+ million unique visitors per year, this "language/education" specific Q&A platform has been growing consistently since its 2004 launch having reached over 106 million users in the past 3 years, with year-to-year organic traffic growth.
Other noteable points of interest:

12 years running and organically growing with no paid ads or marketing budget.
Features over 1.9 million unique posts across 500,000 questions.
The site serves a loyal community that have key interests across: employment, travel, accommodation, post-secondary, financial services
106+ Million users served in the past 3 years.
1.9 Million posts, 500,000+ questions.
Secure, Fast Loading, Efficient Code (Developed and Run By 34+ Year Programmer)
Demographic Age: 70% of Traffic Aged 18-35
Mixed international traffic from USA, India, UK, Philippines, Canada, Australia, Germany, Malaysia, Hong Kong, Singapore, Russia, United Arab Emirates, Brazil, Thailand, Japan
100% organic traffic
$0 advertising, sales, marketing spend.
$0 outside / VC investment. (Privately owned and operated).
August 28, 2016 - While large horizontal Q&A sites dominate top of mind, such as Answers.com and Quora, the narrower-focused, vertical Q&A sites, such as Stack Overflow and Health Care Magic are establishing fast authority in their industries.
Rob Toth, Business Development Director at OODIENCE, commented, "This will be an ideal acquisition for the right Corporate Venture Capital fund as a match to their brand strategy, or an established Private Equity Group's portfolio."
For Selling Prospectus and first-level due diligence access, qualified parties should contact OODIENCE directly.
About OODIENCE
M&A intermediary, specializing in audience-driven platform and media channel sales and acquisitions, with offices in Vancouver, Canada and Budapest, Hungary.
Rob Toth, 1-888-727-3330 ext2
contact(at)oodience(dot)com