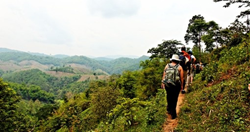 ...a 4-day trekking trip out of Chiang Mai, which takes hikers to meet the hill tribes of Northern Thailand.
Glendale, CA (PRWEB) September 02, 2016
Goway is encouraging travellers to get active on vacation with a range of new activities and tours guaranteed to get the blood pumping in Asia and the South Pacific.
According to data from the Global Wellness Summit, health and wellness travel now accounts for around 15% of trips taken each year. This includes trips taken with specific treatments in mind, or particular sporting or recreational activities. There is also an upward trend of travellers in their 20s and 30s, as well as male travellers seeking health and exercise focused trips. Agents specialising in wellness have also observed an uptick in short trips centred on specific activities or goals.
Asia remains a favourite with health and wellness travellers, offering rejuvenating or active getaways in a variety of countries. Two however, stand out. The Northern Village and Trekking Adventure is a 4-day trekking trip out of Chiang Mai, which takes hikers to meet the hill tribes of Northern Thailand. Those looking for a longer hike with some seriously rewarding mountain scenery might instead opt for the 8-day Poon Hill Trek from Pokhara, Nepal. Both trips are designed to bring hikers into contact with local villages, and immerse them in the kinds of cultural experiences they simply won't find on the main tourist trail.
Meanwhile, the romance and natural beauty of Tahiti isn't confined to the beach. The islands of French Polynesia offer many picturesque walking trails through natural features such as the Vaipohe Valley, Moorea's Three Coconut Trail, or Bora Bora's Valley of Kings. A half-day guided walking tour can open up an all new side of paradise before spending the afternoon relaxing by the lagoon.
For a different kind of island serenity, Maria Island is a hidden Australian treat right off the coast of Tasmania. On Goway's 4-day Maria Island Walk, hikers genuinely get the sense of having this island wilderness all to themselves as they spot local wildlife and discover the island's fascinating history.
Since 1970, Goway has been providing unforgettable travel experiences to Africa, Asia, Australia and New Zealand, polar and idyllic island destinations, Europe and South America. Today Goway is recognized as one of North America's leading travel companies for individuals, families and groups to select exotic destinations around the globe. Goway has offices in Los Angeles, Vancouver, Toronto, Manila, and Sydney (Australia).
For reservations and information, visit http://www.goway.com, or call 1-800-387-8850.