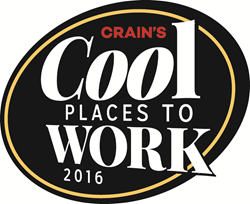 We work hard to nurture a positive, engaging workplace.
Troy, MI (PRWEB) August 30, 2016
Billhighway takes the cake with a fourth win of Crain's Cool Places to Work in Michigan, building on previous wins in 2011, 2012, and 2014. This is their second workplace award this year, further validating that the innovative HR practices in place are working to build and maintain a fun and engaging culture.
Crain's Cool Places to Work collaborates with the Best Companies Group, a Pennsylvania-based research facility, to gather data and conduct surveys on each organization. The assessment is twofold: one part collects information from the employer on its perks and policies, while the other part surveys the actual employees. The findings are weighted with seventy-five percent based on employee feedback and twenty-five percent based on employer response, then used to determine the overall organization rankings, which are divided into three categories based on organization size. Companies are subsequently given the results, so they can strive to improve any workplace weaknesses and build upon strengths. This year, Billhighway ranked 19th in its category.
Attracting and retaining talent is a never-ending concern of companies everywhere. That's why Billhighway has upped the ante with its Team Member Success (Human Resources) team, which focuses on creating an environment that stimulates results by powering the team with HR programs and practices that are meaningful to them. They believe strong communication and transparency is the key to a successful culture. Brenda Gallick, Director of Team Member Success at Billhighway stated, "We believe dialogue with our team members should be a two-way street. Therefore, we focus our time and efforts on finding out what our team members really care about. We work hard to nurture a positive, engaging workplace." To facilitate this, they have installed an anonymous suggestion box where team members can submit ideas for improvement. A few of the cool things that Billhighway has implemented based upon team member feedback include Flex Fridays, where team members are allowed to work four ten-hour days and take Friday off in order to better enjoy the few short months of summer. The company also recently introduced a Family Flex Policy to make it easier for new parents to transition back into their position. When hearing about the new policy, Michael Medonis, a Client Relations Consultant at Billhighway stated, "I am thrilled to have this flexibility with the upcoming addition to my family. It means a lot to me to work for a company that recognizes the value of work life balance and family life." In addition, stand-up desks and posture balls were not only great suggestions, but helped to improve overall workplace wellness.
A shared passion for doing good and making a difference is a big part of what is important to Billhighway team members. The company takes this to heart by providing paid time off to volunteer in the community, bringing volunteer projects on-site, and incorporating charitable giving in their everyday programs and events. Incorporating a charitable aspect into their annual Billhighway Olympics competition (a team member favorite), allowed the winning team to choose a charity to which they could donate their first place cash prize. Knowing that time is precious to their team members, they also bring local volunteer activities on-site, where the entire team can get involved. Recently, they packed seeds for Keep Growing Detroit and hygiene kits for Common Group Sanctuary. Every year, Billhighway hosts a Bring Your Kids to Work Day, where they work to inspire the same passion for doing good in the next generation.
Billhighway not only understands the importance of keeping their team members happy, but also recognizes their need for growth and development in their careers. In response to that, Team Member Success went to work on developing the Billhighway Academy, a program that mentors junior developers and teaches them coding skills, as well as creating a career development and mentor program. The program includes many different paths, ranging from improving technical expertise to learning leadership skills required for a new role. In an effort to encompass their Customer Commitment 365 play (core value), they added a Training Certification Program that addresses the company's need for scalability and knowledge transfer. At Billhighway there is no shortage of benefits, making it one cool place to work.