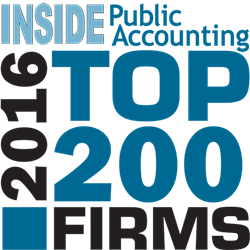 "I'm pleased that our firm has enjoyed steady growth, and I'm grateful to our outstanding staff whose hard work and dedication has led to our inclusion on the IPA 200 list," remarked Dave Doran, Managing Partner.
IRVINE, California (PRWEB) August 31, 2016
National magazine INSIDE Public Accounting (IPA) has named White Nelson Diehl Evans LLP (WNDE) #145 on its IPA 200 list of the country's top accounting firms. The IPA 200 survey is highly regarded as one of the most thorough, complete and accurate sets of rankings and trends in the public accounting profession. This is the third straight year that WNDE has been mentioned on this list.
"I'm pleased that our firm has enjoyed steady growth, and I'm grateful to our outstanding staff whose hard work and dedication has led to our inclusion on the IPA 200 list," remarked Dave Doran, Managing Partner. "We will continue our efforts to provide the wide range of services and expertise our clients require, as well as look for new and better ways to serve our clients."
INSIDE Public Accounting is a publication owned by The Platt Group in Indianapolis, and assists accounting firms nationwide in growing their businesses. Mike Platt, principal of The Platt Group, notes that competition between accounting firms has grown significantly in recent years, necessitating that successful firms constantly reassess what services they offer to best serve their clients.
He added, "Successful firms need to continually demonstrate to clients that they are offering valued services, and not merely a competitive price." He continued, "Accounting firms' traditional services of tax and audit don't have the highest value in the eyes of their clients. Instead they are asking, 'How can I grow my business? How can I set myself apart?'"
Firms continue to find ways to serve the increasingly complex needs of their clients, and provide meaningful career opportunities for their employees. "Inclusion on the IPA 200 list is an indication that WNDE is headed in the right direction professionally," he added, "and is developing the services it needs to be successful in the marketplace."
New WNDE Website
One recent effort to help WNDE be successful in the marketplace was the launch of its new and improved website (http://www.wndecpa.com). The new website is an important component in WNDE's effort to demonstrate leadership in the digital space among accounting, audit and tax advisory firms.
"I'm excited about the launch of our new website," said Scott Jones, Director of Practice Development. "As we continuously focus on adding relevant and engaging content, we believe that the site will become a valuable resource to our clients, and be a big asset to the firm."
Key factors among the improvements include:

Responsive design that assures all content adjusts to the user's individual device, be it a desktop, tablet or smart phone, and scales information so that it displays correctly, and provides an optimal viewing experience.
The new site has a clean, modern design which improves visitors' experience so that they can easily navigate through the site and find the information they need. Additionally, it has included unique images of WNDE's offices and team, in order to provide a more personal and realistic representation of the firm.
WNDE's partners and professional staff have a wealth of experience and expertise that will be shared via the website and the addition of a long-term content library where WNDE will offer high quality content via blogs, eNewsletters, eBooks, guides and white papers.
Individual pages that are simpler, yet detailed and unique which better explain WNDE's capabilities in each service area and across each unique industry that it serves.
WNDE partnered with Digital EYE Media, an industry-leading digital marketing agency, to create an innovative new website focused on creating a positive user experience for viewers. According to Scott Jones, "We plan to implement an ongoing campaign to provide informative content that benefits our clients, attracts prospects and top talent to our firm, and assists WNDE in our practice development efforts."
White Nelson Diehl Evans LLP represents over 2,000 business and 2,500 individual clients. The firm provides a full range of accounting, tax and consulting services, including services for governmental and non-profit agencies. With 130 staff members, it is one of the largest accounting firms headquartered in Orange County. Address: 2875 Michelle Drive, Suite 300, Irvine, CA 92606. Phone: (714) 978-1300. Website: http://www.wndecpa.com.