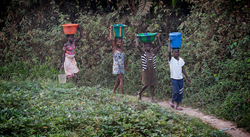 The Water:Walk not only has the potential to build relationships and become a fixture in our community, it also serves a very worthy cause, Blood:Water.
NEW ALBANY, Indiana (PRWEB) August 30, 2016
Every day, thousands of men, women and children in Africa must walk miles to gather potentially unsafe drinking water. Water:Walk will offer the community an opportunity to experience these challenges first-hand while also helping to end them. Hosted by Trinity United Methodist Church, the 1K and 5K walks will take place on September 10 at 9:00 a.m. at New Albany Riverfront Amphitheater, located at 201 E. Water Street at the foot of Pearl Street.
Water:Walk participants will parallel what it is like to gather water in Africa by carrying an empty container half the walk, filling the container with water from the Ohio River and then carrying it back to the starting line.
"We wanted to go outside the physical walls of our church building and host an event that would involve our community," said Sharon Maetschke, chairperson of the event. "The Water:Walk not only has the potential to build relationships and become a fixture in our community, it also serves a very worthy cause, Blood:Water. How great would it be to know our community played a part in ending the HIV/AIDS and safe water crises in Africa?"
It is estimated that every year in Africa, 40 billion hours are spent walking to get water. All proceeds raised during the Water:Walk project will go to shorten this time by supporting the work of Blood:Water, an agency partnering with African organizations to address the clean water crisis. Founded in 2004 by the multi-platinum, Grammy® Award winning band Jars of Clay and activist Jena Lee Nardella, Blood:Water ensures communities are served with the best water solutions.
Registration for the untimed, rain-or-shine walk is $20 for Adults, $5 for children in Kindergarten through 12th grade and free for preschoolers. Community volunteers are also needed to support the event.
Walker registration and a list of volunteer opportunities are available at http://www.waterwalkin.org. Walk participants are encouraged to pre-register online; day of registration will also be available on site beginning at 8:30 a.m.
The event will also include free games and activities for children, soccer tips from the Louisville City FC soccer club, free health screenings by Floyd Memorial Hospital and Baptist East Hospital, and the opportunity to meet Dan Haseltine, lead singer of Jars of Clay.
Water:Walk is funded in part by an event grant from United Methodist Communications' Rethink Church initiative as a way to help local United Methodist churches in their efforts to join with their community to make a difference in the world.
For more information, email waterwalkin(at)mail(dot)com or call event organizers at Trinity United Methodist church, (812) 944-2229.
About United Methodist Communications
As the communications agency for The United Methodist Church, United Methodist Communications seeks to increase awareness and visibility of the denomination in communities and nations around the globe. The Rethink Church initiative highlights the many opportunities available within United Methodist churches to engage with the world – from literacy programs to feeding the poor. At RethinkChurch.org, visitors may interact, learn more about the church, and search for involvement opportunities.