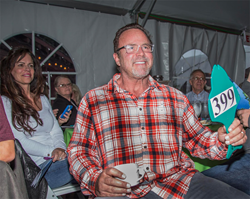 (PRWEB) August 31, 2016
The Priest Lake People Helping People Auction received an in-kind donation from Lloyd Claycomb. A long standing supporter of the Priest Lake community, Mr. Claycomb has made many important donations and helped raise funds for the Priest Lake community. The 2016 People Helping People Auction held Saturday, May 28 at Elkins Resort benefiting the Priest Lake non-profit organizations was a record breaking success.
"This fund raising event ensures that the Priest Lake, Idaho non-profit organizations will continue to have funds supporting facility and services to the community" explains Dowd, Auction Coordinator. "The generous donation from Lloyd Claycomb strengthens the scope of funds available for the non-profit organizations to pull from."
Now in existence for over 20 years, the People Helping People Auction continues to strive to provide funds to support the Priest Lake community. Sponsorship and donations are welcome all year long, but our main fund raising event is the People Helping People Auction. We are a 501(c)(3) non-profit charitable event, raising funds to support our local non-profit community organizations. The funds stay here at Priest Lake.
The People Helping People Grant Fund was established 23 years ago and has contributed over $840,000 to non-profit organizations at Priest Lake. Grants are awarded by an strict application process and reviewed on a quarterly basis by the People Helping People Board of Directors.
People Helping People can only achieve its goals with the assistance of generous donations. Without these donations, serving those in the Priest Lake community would not be possible.
Priest Lake Non-Profit Organizations supported by the People Helping People Grant Fund: Coolin/Cavanaugh Fire Department, Coolin Garden, Priest Lake Ambulance/EMT, Priest Lake Coolin Civic Center, Priest Lake Community Education, Priest Lake Elementary School, Priest Lake Food Bank, Priest Lake Groomers Association, Priest Lake Hospice, Priest Lake Library, Phyllis Low Memorial, Priest Lake Museum Association, Priest Lake Nordic Center, Priest Lake North of the Narrows Fire Station, Priest Lake Search and Rescue, Priest Lake Senior Center, Priest Lake Thrift Store, Priest Lake Sportsmans Association, Save The Thorofare, West Priest Lake Fire District.
For more information, please contact Kamian Dowd, Auction Coordinator, 208 443-2587, kjddesign(at)earthlink(dot)net.