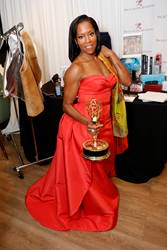 ...Each scarf carries a positive message embedded within the design....
Sarasota, FLORIDA (PRWEB) September 20, 2016
Luxury fashion scarves from Scarves By Mary DeArment were included in celebrity gift bags at the Giving Suite, produced by Backstage Creations. "I'm honored and thrilled that my scarves are being gifted to such extraordinary talent at such a prestigious and historic awards ceremony," noted DeArment.
These versatile scarves come in a variety of rich colors and luxurious fabrics, such as silk chiffon, silk twill and cashmere blends, in sizes ranging from oversized to oblong. Recipients will find their exclusive gift packaged in a white Mary DeArment box wrapped with a golden ribbon, tucked inside the iconic gift bags. "They are the perfect accessory for the discerning fashionista, and each distinctive scarf carries a positive message embedded within the design supporting women of all ages and ethnicities," states DeArment.
In addition, DeArment partnered with the National Women's History Museum (NWHM). This collaboration is highlighted on special gift inserts; for every scarf purchased with a special code, Mary DeArment will donate a percentage to NWHM. In this way she joins with her customers to support the NWHM mission to educate, empower, and shape the future by integrating women's history into the culture of the United States and build a world-class museum on the National Mall in Washington, D.C. DeArment states, "I so welcome this partnership with an organization that is all about celebrating women's history and accomplishments. The NWHM's endeavors are in perfect alignment with my personal philosophy and company's brand mission: empowering women one scarf at a time."
DeArment's overall vision is to design scarves to empower women of all ages and skin tones while inviting interesting, thought provoking conversations about the positive messages embedded in her artwork. With words such as Gender Equality, World Citizen, S.T.E.M., and Peace, Mary constructs visual puzzles, exquisite patterns, and geometric designs that magically fuse together to create a one-of-a-kind luxury scarf.
From her online boutique to the gift bags of the 2015 American Music Awards and this year's 2016 Emmy Awards, Scarves by Mary DeArment not only accessorize famous musicians and actors around the country, but they also offer a vehicle for women to literally wear their word, making a definitive statement in fashion, style, personality and social awareness. Customers can also donate a percentage of their purchase to one of the nonprofits with whom Mary collaborates. These charities benefit education, women, health care, and child welfare. New nonprofit collaborations and customization ideas are always welcome.
For more information on Mary DeArment, please visit http://www.scarvesbymarydearment.com.