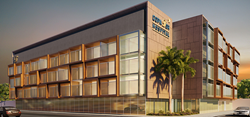 The final result is a durable and waterproof concrete structure with low permeability. Just what the doctor ordered!
East Setauket, NY (PRWEB) September 19, 2016
PENETRON crystalline technology was used extensively in the new Hospital Copa Star's underground structures. One of the most modern medical facilities in Brazil, the facility is set to open in October.
Hospital Copa Star is centrally located in the well-known Copacabana district of Rio de Janeiro. What initially looks like a 5-star hotel actually offers world-class medical treatment with state-of-the-art medical equipment, including smart operating rooms, hybrid rooms, a neurosurgery facility with integrated MRI systems, robotic medicine, and telemedicine. The interior design of the building integrates many sustainable features that increase the energy efficiency of the facility and reduce energy consumption by 30-50%.
With a 10,000 m² construction footprint on five floors, this $115 million project includes 150 beds, 45 ICU and 105 rooms, nine operating rooms and diagnostic center. While not yet officially open this month, it was a reference hospital chosen by several countries as support to the Rio 2016 Olympic Games.
"One of the main challenges of the Copa Star project was the availability of space at the job site," explains Jozef Van Beeck, Director, International Sales & Marketing of PENETRON International. "Not only was the specific height of the final building limited, but the construction area itself was very tight. Utilizing PENETRON ADMIX-treated concrete enabled the design team to maximize the very small project footprint."
The project guidelines specified PENETRON ADMIX for all concrete used in the hydrostatic slab and in the perimeter retaining walls. In addition, PENEBAR SW-55 waterstops were installed in the resulting construction joints.
"The final result is a durable and waterproof concrete structure with low permeability," adds Mr. Van Beeck. "Just what the doctor ordered!"
The PENETRON Group is a leading manufacturer of specialty construction products for concrete waterproofing, concrete repairs and floor preparation systems. The Group operates through a global network, offering support to the design and construction community through its regional offices, representatives and distribution channels.
For more information on PENETRON waterproofing solutions, please visit penetron(dot)com or Facebook(dot)com/ThePenetronGroup, email CRDept(at)penetron(dot)com, or contact the Corporate Relations Department at 631-941-9700.