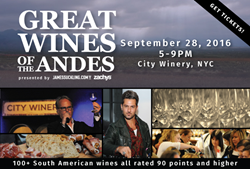 The time to discover the wines of Argentina and Chile is now. The price to quality ratio of these wines is hard to beat. The Great Wines of the Andes is an unrivaled wine experience that should not be missed! - Andrew McMurray, Zachys Vice President
White Plains, New York (PRWEB) September 07, 2016
Wednesday, September 28, 2016 at 5:00pm-9:00pm ET
City Winery NYC – 155 Varick Street, New York, NY 10013
JamesSuckling.com, along with premium New York wine retailer Zachys, are pleased to present the third annual Great Wines of the Andes: a walk-around wine tasting featuring over 50 of the best Argentine and Chilean wineries of South America. Returning to New York City's City Winery on Wednesday, September 28, producers will show their top two wines, all of which were selected by wine critic James Suckling and rated 90 points or higher. The wines will also be available for purchase through Zachys.
"The time to discover the wines of Argentina and Chile is now. We have been fortunate to partner with James Suckling on Great Wines of the Andes since 2014 and every year we are more impressed with the reds and the whites coming from this region. The wines have become more refined and stylish," remarks Zachys Vice President Andrew McMurray.
"Only with Zachys and James Suckling do you have the opportunity to taste and talk with 50 different producers while enjoying live music and great wine! The price to quality ratio of these wines is hard to beat, and the testimonials from the last 2 years have been overwhelmingly positive. This is definitely an unrivaled premium wine experience that should not be missed!"
The all-star lineup includes 100+ wines including James Suckling's top two wines of 2016: Viñedo Chadwick Cabernet Sauvignon Valle De Maipo 2014 and Adrianna Vineyard Malbec Mendoza Fortuna Terrae 2012, both rated 100 points. The fun, educational setting will also feature an elaborate selection of cheese, charcutiere and empanadas, as well as music from Surhan Sidhu, formally of Empire of the Sun.
Pricing:

General Admission: $75 - Entry to the event from 5:00 pm to 9:00 pm. Full access to all wine, food and entertainment. Includes the use of a take-home Lalique tasting glass designed by James Suckling for the event ($75 MSRP).
100 Points Ticket: $150 - Entry to the event from 5:00 pm to 9:00 pm. Full access to all wine, food and entertainment. Includes a keepsake Lalique 100 Points universal tasting glass designed by James Suckling ($150 MSRP).
Visit http://www.zachys.com/events for more information and to purchase tickets.
Participating Wineries: Achaval Ferrer, Alamos Winery, Almaviva Winery, Bodega Aniello, Aresti Chile Wine, Armidita, Bisquertt Family Vineyards, Caliterra, Carmen, Bodegas Caro, Casas del Bosque, Bodega Catena Zapata, Chacra, Viñedo Chadwick, Clos Andino, Viña Cobos, Concha y Toro, Cousiño Macul, Doña Paula, Emiliana Organic Vineyards, El Enemigo, Ernesto Catena Vineyards, Viña Errazuriz, Bodega El Esteco, Kaiken, Kingston Family Vineyards, Lapostolle & Clos Apalta, Laura Hartwig, Viña Leyda, Viña Los Vascos, Montes, Morandé, Nieto Senetiner, Bodega Norton, Viña Pérez Cruz, Polkura, Viña El Principal, Ritual Winery, Ruca Malen, Rutini Wines, Grandes Vinos de San Pedro, Viña San Pedro, Santa Carolina, Santa Ema, Santa Rita, Seña, Siegel Family Wines, Clos de los Siete, Susana Balbo Wines, Tabalí, Tapiz, Viña Tarapacá, TerraNoble, TintoNegro, Trapiche, Valdivieso, Valsecchi Wines, Ventisquero, Villard, Viu Manent, Von Siebenthal.
About Zachys Wine & Liquor: Founded in 1944 by Zachy Zacharia, Zachys Wine and Liquor thrived for a generation as a highly popular Scarsdale, N.Y. store known for fine wine. In the 1960s, the enthusiasm of Zachy's son, Don, converted the business into a dynamic venture that led the way in exposing consumers across America to the great houses of Bordeaux and Burgundy, cultivating the acceptance of the finest Italian wines, and promoting the best California growers as they gradually developed into industry giants. Zachys is known throughout the world for having an exceptionally knowledgeable staff and for maintaining the highest level of customer service.