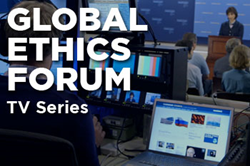 On this weekly half-hour TV show, leading thinkers and policymakers discuss ethics and vital issues in global affairs.
(PRWEB) September 02, 2016
Carnegie Council announces Season 8 of its weekly TV show "Global Ethics Forum," beginning on Saturday September 3.
This popular half-hour show features leading thinkers and policymakers discussing ethics in international relations.
WHERE TO WATCH:
MHz Networks (Worldview Channel) across the US, Saturdays at 3pm
CUNY Television, New York City, Mondays at 10am, 4pm and 10pm, Saturdays at 5pm (the first episode of Season 8 airs on Monday September 5)
Check local listings for more information. Or watch it on YouTube at youtube.com/carnegiecouncil. The first episode of Season 8 will be posted on September 6.
SEPTEMBER LINEUP:
Week of 9/3: "A Rage for Order." Author Robert Worth and Roger Cohen on the Arab Spring and its aftermath.
Week of 9/10: "Blood Year: The Unraveling of Western Counterterrorism." Counterterrorism expert David Kilcullen on ISIS and how to defeat it.
Week of 9/17: "The Next Pandemic." Dr. Ali Khan on Zika and other pandemics.
Week of 9/24: "Bearing Witness to War and Injustice." Photojournalist Ron Haviv on the complicated ethics of journalism in war zones.
ABOUT CARNEGIE COUNCIL
Founded by Andrew Carnegie in 1914, Carnegie Council for Ethics in International Affairs is an educational, nonprofit, nonpartisan organization that produces lectures, publications, and multimedia materials on the ethical challenges of living in a globalized world. Go to http://www.carnegiecouncil.org