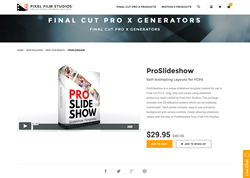 ProSlideshow allows FCPX users to create unique slideshow videos with complete customization
Aliso Viejo, California (PRWEB) September 04, 2016
"ProSlideshow allows FCPX users to create unique slideshow videos with complete customization," said Christina Austin - CEO of Pixel Film Studios.
ProSlideshow includes over 30 different professionally animated presets. Choose any style ranging from accordion styles to merry go rounds. Its easy to find a preset for any occasion. Animation times also vary, from half a second to a second and a half. Showing off a series of pictures in Final Cut Pro X has never been easier.
ProSlideshow's presets are easily adjustable. With the provided sliders and drop zone controls its easy to customize. Easily change the animation directions, background scales and background positions. Users can even change the animation style. Animation styles ranging from "accelerate" to "ease both" can be selected from a simple drop down menu. Save time in Final Cut with easy to use controls.
ProSlideshow layouts can be drastically altered simply by changing the camera controls. Each preset includes sliders that allow users to adjust the angle of view and camera depth. With customizable cameras each preset in ProSlideshow offers users a truly unique and vastly customizable way of showing off images.
ProSlideshow is professionally designed to work with FCPX. Each preset includes 24 image drop zones along with a background drop zone. Simply drag and drop any of the 30 + presets onto the Final Cut Pro X timeline. Let any of the 30+ presets to the hard work. Simply add images to the drop zones and adjust the animation. Its that simple.
Established in 2006, Aliso Viejo, California-based Pixel Film Studios is an innovative developer of visual effects tools for the post-production and broadcast community. Their products are integrated with popular non-linear editing and compositing products from Apple FCPX. Apple, the Apple logo, Mac OS X, and Macintosh are registered trademarks of Apple Inc. in the U.S. and/or other countries. All other trademarks and trade names are the property of their respective owners.