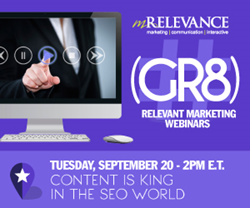 Atlanta, GA (PRWEB) September 04, 2016
Search engine optimization (SEO) and content are important in the world of marketing. Join the mRELEVANCE team on Tuesday, September 20 from 2 to 3 p.m. for its next #GR8 Relevant Marketing webinar, "Content is King in the SEO World," to learn what SEO is, why content is important and how to use both well.
SEO tactics change frequently, but the mRELEVANCE team stays up-to-date on the latest changes and is here to help viewers understand them. Account Manager Melissa Stocks and SEO Coordinator Doug Silk will guide webinar attendees through Google's changes. Plus, they will walk everyone through the role that content on a website plays into SEO strategy.
The webinar will feature a new, extended Q&A format, where the team focuses on questions to help participants better understand this often confusing topic. Submit any SEO and content questions in advance to lauren(at)mrelevance(dot)com, and be ready to ask more during the webinar. mRELEVANCE wants questions so that they can interact. The agency's goal is to answer any and all questions about SEO and content.
Relevant Marketing Webinars are free and open to business owners and marketing professionals who are looking to gain knowledge on the hottest topics, issues and trends to enhance their marketing efforts. To register for this and future webinars, visit http://www.MarketingRELEVANCE.com/webinars or GoToWebinar. Be sure to use the hashtag #GR8mRELWebinars when promoting the webinars online.
The last 2016 # GR8 Relevant Marketing webinar is "Puzzle Building: Marketing Goal Setting" and is on October 18. Do not miss out on this great opportunity to learn!
About Marketing RELEVANCE: mRELEVANCE, LLC creates relevant marketing and communications that reach audiences with focused and strategic messages. Through technology and creative content, messages are delivered to target markets to encourage customer action and interaction.
With offices in Atlanta and Chicago, mRELEVANCE can connect your company with buyers and build relevant relationships nationwide. For more information, visit http://www.MarketingRELEVANCE.com, Like us on Facebook at http://www.Facebook.com/mRELEVANCE, Follow us on Twitter at @mRELEVANCE or call 770-383-3360 or 847-259-7312.