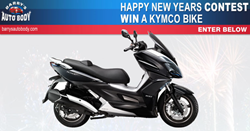 We want to share our success in the auto collision repair industry by giving away this Kymco scooter.
New York, NY (PRWEB) September 07, 2016
Barry's Auto Body, Staten Island's eco-friendly auto collision repair shop, is hosting a scooter give-away contest to celebrate more than three decades in the automotive industry.
There is no cost to enter the sweepstakes. The sweepstakes is open to all Staten Island residents. The winner will be selected in a random drawing on New Year's Day 2017. Enter contest here.
Said Barry Crupi, owner of Barry's Auto Body, "Our family has owned our shop for more than three decades. My sister Michelle and I took it over from my father and expanded the shop to include more spray booths and mechanic services so we can provide fast, one stop service to our customers. We want to share our success in the auto collision repair industry by giving away this Kymco scooter."
Barry's Auto Body offers collision repair, mechanical repair and maintenance services for all types of vehicles. Barry's Auto Body uses environmentally friendly products in all automotive services.
Mr. Crupi continued, "This scooter contest is a way to give back to customers and to introduce our services to people who may not know about us. Even when no one is hurt, people feel vulnerable following an auto accident. Barry's Auto Body stands ready to help customers involved in auto accidents. We work with customers to ensure that their insurance company covers the full cost of vehicle repair. Today, it is commonplace for insurance companies to try to reduce the cost of the repair by denying portions of the claim. Some shops allow the insurance company to dictate what repairs they make. Barry's Auto Body doesn't let the insurance company decide what repairs are necessary or how repairs should be completed. Instead, our skilled mechanics go over every inch of the vehicle then contacts the insurance company to ensure that it pays for repairs. People pay premiums to be sure that their vehicle is repaired correctly following an accident. Giving away this scooter is just one way to let people know that we work for the customer, not the insurance company."
For more information about Barry's Auto Body click here.