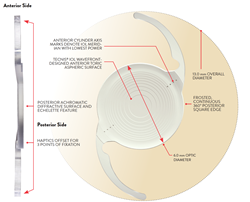 A good surgeon will help each patient choose the IOL that is best suited for their desires, lifestyle, preferences, and unique eye anatomy."
Bloomington, MN (PRWEB) September 08, 2016
On July 15th, 2016 Abbot Medical Optics announced that the U.S. Food and Drug Administration (FDA) has approved the Tecnis Symfony® Intraocular Lenses for the treatment of cataracts.
The first in a new category of intraocular lenses (IOLs), the Tecnis Symfony lenses are the only lenses in the United States that provide a full range of continuous high-quality vision following cataract surgery, while also mitigating the effects of presbyopia by helping people focus on near objects. The FDA approval includes a version of the lens for people with astigmatism, the Tecnis Symfony Toric IOL.
Cataracts are a common condition, with almost 4 million cataract surgeries performed each year, and that number is expected to increase.1 By age 80, more than half of all Americans either have a cataract or have had cataract surgery.2 However, cataracts do not just impact seniors. In 2016 it is estimated that nearly one in four cataract surgeries will be performed on people younger than 65.1 Many people who have cataracts experience other problems with their vision, such as presbyopia and astigmatism, which the Symfony lenses also address. Presbyopia, which affects most people over age 40, means people have lost the ability to focus on objects up close and often require glasses to perform near visual tasks. Astigmatism is when the cornea is misshapen, which causes blurry or distorted vision.
During cataract surgery, the natural lens of the eye is removed, and an artificial lens, called an intraocular lens, or IOL, is inserted into the eye. The IOL most commonly used in cataract surgery is a monofocal lens, which only allows the person to see at one focal point without glasses, with objects at other distances being out of focus. In contrast, the Symfony lens was specifically developed with features to improve both the range and quality of vision.
Elizabeth Davis, MD, FACS, partner at Minnesota Eye Consultants and Investigator with Abbott on the Symfony lens, says, "With most intra ocular lens options, you generally don't achieve an expanded range of vision without compromising some clarity of vision. However, with the Tecnis Symfony - because we are reducing both spherical and chromatic aberration compared to a conventional implant, the lens can potentially have extremely sharp vision."
Dr. Davis continued, "Many of the IOL options we have for treating cataracts are excellent, and result in high patient satisfaction, but each have their own distinct advantages and disadvantages. A good surgeon will help each patient choose the IOL that is best suited for their desires, lifestyle, preferences, and unique eye anatomy."
The Symfony lens is approved in more than 50 countries around the world, and has been widely studied, with data from numerous clinical studies involving over 2,000 eyes. In clinical studies, the Symfony lens:

Provided seamless, day-to-night vision. Patients could see objects sharply and clearly at near, intermediate and far away distances, and points in between.
Provided high-quality vision. Some IOLs may leave patients with an inability to focus clearly due to competing wavelengths of light passing through the lens at different angles (known as chromatic aberration), or with vision that is not completely focused because of the shape of the lens (known as spherical aberration). The Symfony lens has been engineered to correct these issues.
Demonstrated a low incidence of halo and glare, which may be perceived as rings or blurring around bright lights. Glare and halo can sometimes affect an individual's ability to drive at night or to perform other visual tasks.
To learn more about the Tecnis Symfony intra ocular lens, or Minnesota Eye Consultants, visit http://www.mneye.com. For further information or to set up interviews, please contact: Anna Mueller – ph: 952-567-6055 or armueller(at)mneye(dot)com.
12016 Comprehensive Report on the Global IOL Market, Market Scope®, LLC.
2National Eye Institute. Facts About Cataracts. Available at: https://nei.nih.gov/health/cataract/cataract_facts. Accessed July 1, 2016.
About Minnesota Eye Consultants
Minnesota Eye Consultants is a dynamic organization of reknown ophthalmologists with extraordinary educational and professional credentials. They are passionate about patient care and dedicated to improving quality of life through life-changing vision procedures and treatments. As a team of clinical trial researchers, its surgeons have been actively involved in the development of vision correction procedures since this technology was introduced.. The practice serves as a teaching facility, training ophthalmologists and clinical professionals throughout the world on vision correction management. With four laser and refractive surgery centers in the Twin Cities and a growing team of dedicated eye care professionals, Minnesota Eye Consultants is committed to delivering these services in a convenient, community setting. Minnesota Eye Consultants is the Minnesota Twins' Preferred Ophthalmology Group, and their surgeons are The Preferred Ophthalmologists of the Minnesota Vikings.
*Owned/operated by Minnesota Eye Consultants, PA and Minnesota Eye Laser & Surgery Centers, LLC.