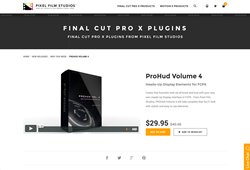 ProHUD Volume 4 allows FCPX users to create a brand new futuristic world with stylish and easy to use elements
Aliso Viejo, California (PRWEB) September 12, 2016
Pixel Film Studios Set to Release ProHUD Volume 4, a Head-Up Display Element Plugin for Final Cut Pro X.
"ProHUD Volume 4 allows FCPX users to create a brand new futuristic world with stylish and easy to use elements," said Christina Austin - CEO of Pixel Film Studios.
ProHud Volume 4 comes with 30 HUD interface elements to choose from. Drag and drop as few as one or all of the ProHUD generators on top of one another in the FCPX timeline and create easy to use professional and futuristic touch interfaces in minutes.
Control a 3D camera in the FCPX Inspector window to view the interface elements from all angles. The 3D camera controls allow users to adjust angles and depths in both positive and negative space. Project the elements off the surface of the screen or interface with a combination of camera angles and depth.
ProHud Volume 4 was designed to make creating unique and futuristic looks efficient with intuitive controls. On-screen controls and easy-to-use parameters make customizing scale, angle, position, and rotation a breeze.
Pixel Film Studios designed these HUD elements to work flawlessly with Final Cut Pro X. Drag and drop interface elements on top of any clip and use the on-screen controls and Inspector sliders to calibrate the design.
Established in 2006, Aliso Viejo, California-based Pixel Film Studios is an innovative developer of visual effects tools for the post-production and broadcast community. Their products are integrated with popular non-linear editing and compositing products from Apple FCPX. Apple, the Apple logo, Mac OS X, and Macintosh are registered trademarks of Apple Inc. in the U.S. and/or other countries. All other trademarks and trade names are the property of their respective owners.