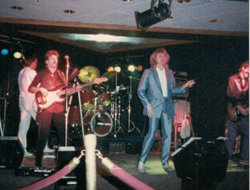 To every thing there is a season, and a time to every purpose under the heaven: a time to laugh and a time to dance;
Nashville, Tennessee (PRWEB) September 13, 2016
Remember all the 1980 bands that left their indelible mark on the hearts and ears of many souls throughout the world? Imagine finding a treasure trove of over 50 hit recordings from a group on par with any of the music groups from that era. Yet this catalog of songs was never released to the public. Here's a find that may be for the ages!
Ebiz Products LLC has been a part of the discovery of a long-buried treasure… a 30-year-old music catalog by a 1980's music group that, with a special team of music professionals overseeing the project, has finally been released and uploaded to iTunes and many other music sites, for the general public and those looking for an untapped source for a sync license.
How did this come about? Ebiz Products was contacted by some people who were part of this rare discovery, and had the opportunity to interview them and listen to the 50-plus hits. After hearing the entire catalog, the team was befuddled… WHY was this not released years ago, when millions of dollars could have been made during the 80's and since… people's lives might have been changed forever. Music lovers would most certainly have been listening to these screamed-to-be classics on today's Oldies Radio programs, would no doubt be part of the American culture.
As Ebiz Products became familiar with the catalog, and had some outsiders listen also, the team wondered, "Why would anyone in their right mind NOT release these songs when first recorded? Was the owner of the catalog an eccentric young billionaire who didn't care about the money? Maybe he was a recluse, and feared becoming well-known!" It just didn't make sense.
Given Ebiz Products' business expertise, although a departure from normal activities… having a team member who had worked for Opryland Music Group (now Sony/ATV) for several years, this was a no-brainer. So, the decision was made to help and get involved.
Searching further, to ensure all legal aspects of this catalog were in order, the Ebiz team discovered the name of the publishing company that holds the rights to the songs. To the team surprise… the company, which has a famous name, Baton Rouge Publishing Co., is totally obscure and barely known in the music industry.
It just didn't add up, and only raised more questions. Why didn't this publishing company actively try to promote these songs during the 1980's?
Ebiz Products' team soon discovered that the owner of the little-known publishing company was also the artist and co-writer of all the songs in the mystery catalog. This made things easier from a legal standpoint.
A billionaire or a delusional recluse… seemed to be the only reason this many albums and singles of such well-written songs would be found; hidden so long in a 100-year-old basement of a home located in the Deep South, across the road from a cotton plantation and historic home of a confederate hero from the Civil War.
Inquiring further, another anonymous figure disclosed to one of the researchers, that this lead singer's father had been an itinerant gospel preacher from New Orleans for more than 50 years, and had given this lead singer two Bible names… Philip Paul. Putting two and two together, it was decided that this "eccentric recluse"… now identified as Philip Paul… must have been something of a rebel. Maybe that's why he took the name "Naked Wilson" … to separate himself from his dad's unshakeable doctrines about The Way. Maybe that's why rock 'n' roll became the singer's way… a prodigal son? But, the unique, gravelly tones of a gospel/R&B/New Orleans-style singer were unmistakable in his voice.
Still, that didn't answer the team's question, as to the why. Wanting to help… not to mention get involved business-wise with a possible sync license opportunity… the team was anxious to meet this solitary figure from out of the past. The break came, thanks to another lead and the Internet.
One team member located an old obscure deejay's copy of a 1980's vinyl 45 record being sold on Ebay: a Top Pick Single in Billboard in 1980 by this same artist.
Pay dirt! The mystery 1980 band had been known as Patrol… Philip Paul & Patrol, to be exact… they had been on the circuit for about eight years back in the day.
Our mysterious Philip Paul had traveled under various assumed names all over the USA and Canada like other 1980 bands, but keeping his real name anonymous. For a while he performed as "Papa Joe"… although not quite as cool as "Naked Wilson"… on various New Orleans riverboats during the 70's & 80's, many times for very private functions for the University of Alabama. What was that all about, the team wondered? And why private performances?
The team now had the name of this eccentric son of a gospel preacher, and they knew he was living in a 100-year-old farm house in a small Tennessee town, not too far from "Music City"… and, through another anonymous source, contact was finally made.
A few of Philip Paul's former band members and a close family member, not to mention the whole Ebiz Products team, encouraged him to release the should-have-been-monster-hit-songs to the world.
With the help of a Nashville recording studio called The Switch Yard, owned by a French musician/producer, the team was able to make it happen.
The newly-mastered, old catalog was organized into four albums and several singles of all this original material, then uploaded to the world, during the summer of 2016. Also uploaded was a live album of cover songs titled, "It's Party Time Ya'll – New Orleans to Nashville."
So, why did "Philip Paul" bury this musical treasure for thirty years? That's for you to ponder. But, having listened to this musical feast, the Ebiz team agrees… there are hits to be had, not to mention a sync license or two.
Listen to Philip Paul & Patrol
Out of the Past
Live at Jefferson Village