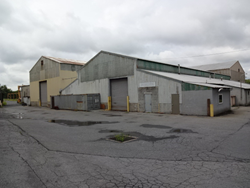 Sinking Spring, PA (PRWEB) September 12, 2016
Comly Auctioneers & Appraisers has been appointed by the U.S. Bankruptcy Court to provide marketing services to enhance the participation of bidders in the auction of the assets of Metropolitan Steel Industries, Inc. (dba Steelco) located at 601 Fritztown Road in Sinking Spring, PA 19068. The assets consist of real estate, intellectual property, machinery & equipment and are to be sold as an entirety only.
Metropolitan Steel Industries is situated on 12.44 acres and comprises (3) buildings: a 79,000 SF steel fabrication facility, a 51,000 SF open warehouse, and a 12,800 SF (2) story office building. In addition to the real estate, there is a forklift, metalworking machinery & equipment, welders, overhead & gantry cranes, miscellaneous steel, office furniture & equipment, and intellectual property.
Inspection is available by appointment only. Bids are due in the office of the Trustee on Monday, September 26, 2016 at 5:00 PM EDT. The auction will take place on Wednesday, September 28, 2016.
Comly Auctioneers & Appraisers can provide prospective bidders access to the "Data Room" which contains all of the pertinent information upon receipt of a signed Non-Disclosure Agreement.
Interested parties may contact Helen Minnucci at our auction office by phone (215-634-2500) or by email to receive the Non-Disclosure Agreement.
Visit our website at Comly.com/Metropolitan for more information!