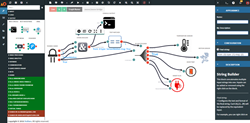 Cyan makes the life of IoT developers easier
Stockholm, Sweden (PRWEB) September 19, 2016
Cyan, Yodiwo's IoT flagship product, is a graph based IoT application development and deployment environment, allowing dispersed network devices of diverse technologies to be seamlessly connected with analytics, storage systems, mobile and web applications. Yodiwo today released a new version of Cyan, offering IoT developers additional features, which effectively leverage Yodiwo's IoT cloud and fog technology and raise the bar for physical asset management.
The new version of Cyan introduces unique device management and reporting capabilities:

Live View provides real-time information for sensor values, metadata from real-time events, alarms and decision-making logic among many others.
Floor Plan View visualizes the environment where sensors and actuators are located.
Thing Sharing enables the creation of IoT Social Channels through friend invites and creates unimaginable opportunities in team activities. Thing Sharing allows individuals to share functions of their mobile phones, such as the phone's camera or their location, with their friends. In a business environment where conditions are dynamically changing, the IT administrators can better handle sources and ownership of data while also temporarily offering access to 3rd parties. As an example, a call waiter system based on 'connected tables' can make use of the Thing Sharing function to facilitate dynamic allotment of tables to waiters according to visitor rates.
Thing Grouping makes Device Management easier and more useful. Groups can be created by thing type, assigned tag or manually and each created group appears in Cyan's toolbox as a new special block that represents all of the group's Things; can accept events from any of them; can trigger events towards all of them in one go, or to any specific one.
Virtual Things simplify the creation of complex User Stories by carrying the outcome of one graph as input to another, while also allowing buffering of the output of complex logic. Virtual Things do not differ from normal Yodiwo Things which correspond to sensor and actuators and can be shared with others, grouped, assigned tags, etc.
Cyan, in its full extent (with all the features as explained above), is provided without any paid subscription for evaluation purposes and small-scale IoT applications for personal use, through Yodiwo's website. Yodiwo provides consulting services to their System Integrator and Service Provider partners for the optimum use of Cyan and its components in each vertical, without any charge.
About Yodiwo
Yodiwo is a leading Internet of Things Cloud – Fog Platform provider with a disruptive technology for connecting distributed systems through artificial intelligence services. The advanced IoT workflow creator, the ability to virtualize hundreds of dispersed, smart network devices of diverse technologies and the simplicity in using the platform's native or third party analytics, allow the development of IoT applications an order of magnitude faster compared to other methodologies. The company, together with its system integrator and service provider partners, has developed solutions on its platform for verticals such as facility management, retail, wholesale, supply chain, and housing. These solutions have substantially reduced the cost of maintenance and operation while in parallel improve user experience and the overall quality of life.