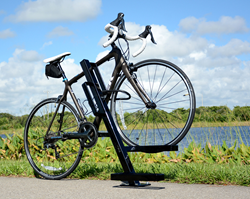 We believe it is imperative we reward and encourage ridership through an infrastructure that screams RIDE, and we believe we have built just that.
Boca Raton Fl (PRWEB) September 15, 2016
The Park and Facilities Catalog announced today that it will be offering the latest in bicycle and skateboard parking innovations by unveiling the campus ready, high-density, Bike Dock called the UpLift. The company launched the event by broadcasting a nationwide animated video projecting the bike dock's benefits to commuters and planners. This space-saving bicycle parking dock is a project developed by Sustainable Sites.
Responding to a growing need for bicycle parking that exists on school and business campuses, as well as in urban environments, the UpLift bike dock was conceived with the needs of cyclists as well as planners in mind.
"Bicycle commuting, especially on college campuses and in cities is on a swift and steady rise," said Chris Luyet, Vice President of Sales and Marketing and Co-Inventor. "A large number of planners and architects have taken notice of this trend, as well as civic leaders, and it has become apparent that cities and building projects will need more bicycle parking as this trend continues to grow. We believe it is imperative we reward and encourage ridership through an infrastructure that screams RIDE, and we believe we have built just that."
Being able to provide enough bicycle parking where land is limited is a common challenge to meet the needs of a sizable population of bicycle commuters. That is why density and the footprint of a bicycle rack was such a factor in the design of the UpLift.
"The number of people cycling worldwide is steadily growing every year. It's our goal to not only meet the demand for bicycle parking, but also to encourage people to ride by offering them innovative solutions that makes it easier for them to bicycle rather than drive!" said Luyet.
Through distinct improvements on previous bicycle racks such as elevating the bicycles and indexing them through the use of wheel pockets and locking arms, a better footprint is achieved that leads to an orderly and user-friendly system for bicycle parking. The offset in elevation between parked bicycles on the UpLift bike dock eliminates handlebar conflict, which allows for a denser parking arrangement while also increasing walkway space behind parked bicycles.
In addition, the UpLift is coated with a seamless proprietary SealGuard© finish that protects the dock from the elements. The coating is resistant to UV rays, salt, mold and mildew. The thick protective thermoplastic coating also prevents scratching and is impermeable to graffiti.
The UpLift is a bike dock that was designed with the needs of cyclists and planners in mind. By taking these needs into consideration The Park and Facilities Catalog hopes to encourage ridership by providing high quality bicycle parking that rewards riders, both by keeping their bicycles safe and giving them premium parking in high-density areas.
Click here for the Uplift Bike Dock and more information on the first of its kind bicycle parking product.
About The Park and Facilities Catalog:
Since 2001, The Park and Facilities Catalog has supplied top quality bike racks to parks, schools, universities, restaurants, stores, malls, shopping centers, multi-family communities across the United States. The company is also a distributor of additional site furnishings such as park benches, picnic tables, trash receptacles, aluminum bleachers and hundreds of other items. Call 1-800-695-3503 or click here for more information on commercial bike racks.