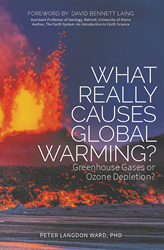 "Fundamental new insights in science have rarely been accepted readily by consensus of the establishment. The more provocative the ideas, the more vehement the objections."
Jackson, Wyoming (PRWEB) September 22, 2016
Climate Scientist Dr. Peter L Ward says, "Global warming is a serious problem, but my data shows it is physically impossible for greenhouse gases to have caused the warming observed. The data points to large basaltic volcanic eruptions as the culprit."
Dr. Ward points out that thousands of scientists believe greenhouse warming theory, but not one of them has ever demonstrated experimentally that greenhouse warming actually works. He is offering $10,000 from his children's inheritance to the first person who can demonstrate experimentally that greenhouse warming theory actually works.
This long time geophysicist dedicated the past 10 years in retirement working fulltime compiling extensive data documenting the relationship of volcanism to climate change. Changes in volcanism explain quite clearly the times, rates, and amounts of climate change throughout Earth's history, says Dr. Ward. The eruption of Bárðarbunga volcano in Iceland explains the unusually rapid warming since 2014.
Dr. Ward described his conclusions at the Geological Society of London a few weeks ago, explaining how studies of ice cores, sediments and rocks formed over hundreds of millions of years show clear evidence of rapid cycling between sudden global warming and slower global cooling in very erratic cycles sometimes lasting only a few thousand years each. Ward will be presenting a similar talk on Monday, September 26th at the annual meeting of the Geological Society of America in Denver.
These extensive data from the geologic record and recent times led Ward to understand why climate models today do not calculate radiant energy correctly. These models have not predicted temperatures correctly since 1998. Dozens of peer-reviewed scientific papers have sought to explain this stark divergence. "There is a whole lot of arm waving going on right now in climate science," Ward points out. "The essence of human beings is not in their ability to reason but in their ability to rationalize."
"Quality data provides the closest thing to truth in science," Ward explains. "Fundamental new insights in science have rarely been accepted readily by consensus of the establishment. The more provocative the ideas, the more vehement the objections."
About: Dr. Ward worked 27 years with the United States Geological Survey as research geophysicist, branch chief, and program manager. He helped develop and manage a major national research program, chaired a committee at the White House, testified before Congress, worked on a committee for Vice President Gore, published more than 50 scientific papers, and won two national awards for explaining science to the general public. He retired in 1998, working intensely for the past decade trying to resolve several enigmatic observations related to climate change. His climate work is entirely self-funded and has no outside influence.
Ward's analysis and theory are explained in detail on his website, WhyClimateChanges.com and in his new book "What Really Causes Global Warming? Greenhouse Gases or Ozone Depletion?"