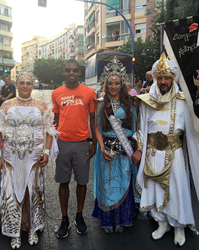 I never thought I'd be able to leave the U.S. and experience another culture as a visually impaired person. The scholarship has allowed me to overcome my fears of traveling alone. - Antoine Craig, scholarship recipient
Portland, Maine (PRWEB) September 14, 2016
In celebration of the 25th anniversary of the Americans with Disabilities Act, CIEE: Council on International Educational Exchange and Mobility International USA (MIUSA) have provided 27 scholarships to U.S. college students with disabilities to study abroad.
Representing 24 colleges and universities across the United States, the students who received CIEE/MIUSA Access to the World Scholarships had the opportunity to further their academic studies while immersing themselves in another country and culture including France, Japan, Jordan, Morocco, Spain, and other locations.
The scholarships are part of CIEE's five-year leadership pledge to increase access to study abroad for all students from all backgrounds. "International education is a powerful tool in the development of all students, providing necessary skills to succeed in a globally interconnected world," said CIEE President and Chief Executive Officer James P. Pellow.
Virginia Commonwealth University student Antoine Craig thought studying abroad was beyond his reach. A strong advocate for people with disabilities in his home community of Richmond, Virginia, Antoine believed his visual impairment would preclude him from traveling and learning abroad. "I never thought I would be able to leave the U.S. and experience another culture. As a visually impaired person, there are a host of challenges – some I could expect and some I could not even fathom," he said.
Antoine received a scholarship to take part in CIEE's Summer Language and Culture program in Alicante, Spain, in 2015. With this experience, he became the first person in his family to study abroad – with or without a disability. "The scholarship has allowed me to overcome my fears of traveling alone. Jumping in headfirst through this experience allowed me to see what I'm really capable of. Without the CIEE/MIUSA Access to the World Scholarship, I don't know that I would ever have had the chance to learn that lesson," said Craig.
MIUSA CEO and co-founder Susan Sygall applauded the long-standing partnership with CIEE. "I am so excited that MIUSA and CIEE are working in partnership to increase the number of people with disabilities who participate in all types of international exchange," she said. "The scholarships have created a powerful catalyst for current awardees to serve as mentors and examples to demonstrate to people with disabilities 'what is possible'."
Joseph Underwood, a student at the University of Missouri – Columbia who received a scholarship to further his Spanish language skills during CIEE's Summer Language and Culture program in Seville, Spain, this past June, agrees, saying, "If I were to speak to another student with a disability who was considering studying abroad, I'd tell them there's no reason to think they can't. It's worth it. Studying abroad was the best experience of my life."
CIEE and MIUSA launched the scholarship program in March 2015 to celebrate the 25th anniversary of the Americans with Disabilities Act, which has helped to expand opportunities for people with disabilities since 1990. The scholarships are part of CIEE's Generation Study Abroad pledge to break through the barriers of cost, curriculum, and culture to double the number of students from all backgrounds, socioeconomic statuses, and majors who study abroad by 2020. In support of this initiative, CIEE has committed to providing $20 million in scholarships and grants to American students, to sponsoring passports for 10,000 students, and to offering an annual $20,000 grant to college faculty to support innovative approaches to custom study abroad programs.
CIEE: Council on International Educational Exchange
Founded in 1947, CIEE is the country's oldest and largest nonprofit study abroad and intercultural exchange organization, serving more than 350 U.S. colleges and universities, 2,500 U.S. high schools, and more than 35,000 international exchange students each year. CIEE serves as a leading sponsor for the U.S. Department of State's Exchange Visitor Program (the J-1 Visa program), supporting exchanges with over 100 countries. In addition, CIEE operates 67 study centers in 45 countries and sponsors international faculty training programs, teach abroad programs, and various specialty and custom programs for secondary, post-secondary, and international students. Visit ciee.org.
About Mobility International USA
Founded in 1981, Mobility International USA (MIUSA) is a disability-led nonprofit organization headquartered in Eugene, Oregon, USA working to advance the rights and leadership of people with disabilities globally. By implementing innovative programs, MIUSA is building bridges to create a new era where people with disabilities will take their rightful place in the world community. MIUSA is a cross-disability organization serving people with a broad range of disabilities. Visit miusa.org.