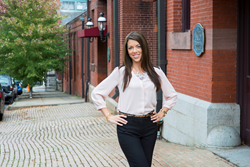 It's great to see Gina recognized among the top young business leaders in Baltimore. She has set a standard for excellence in our office that has inspired everyone around her."
Baltimore, MD. (PRWEB) September 13, 2016
Abel Communications is proud to announce that senior vice president Gina Zuk Gerber has been named to this year's Baltimore Business Journal's 40 Under 40 class.
Chosen from a pool of over 250 nominations, Gina joins a group of the most influential businesspeople in the Baltimore region. The list includes presidents, CEOs, founders, executives and directors from industries including banking, law and the non-profit sector.
Recently promoted to senior vice president, Gina has been a key employee of the firm since 2010. During that time, she has helped Abel Communications grow from two employees to 13; implemented the firm's successful Abel Associates Program for new graduates; and been a trusted adviser and partner to the many clients, including Medifast, MRIS, Conrad Siegel Actuaries, and STX.
"It's great to see Gina recognized among the top young business leaders in Baltimore," said Greg Abel, president and founder of Abel Communications. "She has set a standard for excellence in our office that has inspired everyone around her."
In addition to Gina's role at Abel Communications, she has been the president of the Baltimore Public Relations Council for almost three years, growing the organization's footprint in the region. Gina is also active in the community and frequently speaks at business and industry events. Most recently, Gina spoke at The Baltimore Business Journal's Crash Course in Social Media and was featured as a lifestyle expert on Fox 45.
To view the entire list of the Baltimore Business Journal's 40 Under 40 winners, visit: http://www.bizjournals.com/baltimore/news/2016/08/23/meet-the-bbjs-2016-40-under-40-honorees.html
About Abel Communications
Abel Communications is a results-driven public relations firm specializing in strategic communications campaigns to p clients in professional services, health and wellness, and non-profits. We offer a range of services including comprehensive communications planning, media relations, photo and video, social media and strategic content development. For more information, visit http://www.abelcommunications.com
Abel Communications' clients include UnitedHealthcare, Medifast, STX, MRIS, 1st Mariner, Force 3, and CohnReznick.