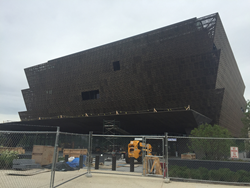 More than a sale, the opening of the museum is historic, and we wanted to be able to say our company was a part of that.
Baltimore, MD (PRWEB) September 22, 2016
Taylor Northeast, a Baltimore-area material handling equipment provider, announced today they have completed delivery of 23 personnel carriers, man lifts, and lift trucks to the National Museum of African American History and Culture in Washington, DC. Taylor Northeast is pleased to be one of the early suppliers to the new museum, which opens on September 24th.
Tony Giorgilli, territory manager for Taylor Northeast, noted that the sale culminated in the transfer of nearly $300,000-worth of new equipment to the museum at the end of August, 2016.
"What the Smithsonian was looking for was on the edge of our comfort zone, but we felt it was worth pursuing," Giorgilli said. "More than a sale, the opening of the museum is historic, and we wanted to be able to say our company was a part of that."
Although the sale went smoothly, Giorgilli said, he noted that its complexity required locating a broad mix of machines from a wide range of manufacturers.
"The museum had very precise specs and we needed to look beyond our regular inventory and acquire equipment from five different manufacturers," Steve Heidenrich, general manager of Taylor Northeast's Baltimore branch, added. "Fortunately, we're diverse enough that we were able to match up everything they needed."
The equipment delivered includes two customized personnel carriers, seven man lifts, three scissor lifts, a walk-behind forklift, two three-wheeled forklifts, four rider pallet trucks, and four pallet jacks.
Taylor Northeast, which is headquartered in Morgantown, Pa., is part of the H&K Equipment family of companies. Giorgilli noted that it was the cooperation between different divisions of the organization that made the sale possible.
"It was a continuous process of bringing in equipment," Giorgilli said. "We had some equipment being stored in Morgantown for over nine months just to make room for machines that were coming into Baltimore. We also had assistance from the sales coordinator at the corporate headquarters in Pittsburgh. Without that, we couldn't have done this."
"We are very proud to have a connection with something as significant as this museum," Heidenrich added. "We are looking forward to working with the museum, as similar competitive opportunities may arise in the future, and for our equipment to have an ongoing role there."
About Taylor Northeast:
Taylor Northeast was founded in 1989 as a sister company to Pittsburgh-based H&K Equipment. Headquartered in Morgantown, Pa., Taylor Northeast now maintains branches in Baltimore, Emmaus, Pa., and Syracuse, N.Y. The company maintains a rental fleet of over 1,000 pieces of equipment and also provides parts and service options at three of its locations.