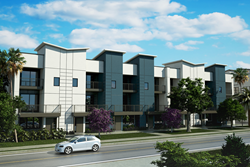 This community fills a much needed void in the market because downtown Sarasota has a ton of high-end housing being developed, but there is a lack of luxury condos and townhomes under $750,000
Sarasota, FL (PRWEB) September 14, 2016
Icon Residential will be breaking ground next month on The Artisan on Main located in Downtown Sarasota. The Artisan is comprised of a collection of 37 contemporary townhomes featuring a variety of floorplans ranging from 1,800 and 2,600 square-feet, priced from the $400s.
Townhouses feature upscale appliances, spacious high ceilings, hardwood flooring, and a collection of designer finish packages to suit your individual style. Laura Gahan with Crestview Reality is the exclusive agent selling the homes and the sales office will be located at address 430 N Tamiami Trail Suite A, Sarasota, FL 34236.
The Artisan's contemporary design features light-infusing large windows, quartz countertops, private elevators, concrete block construction and offers inviting rooftop terraces where you can enjoy the Sarasota sunsets.
The Artisan is located in the Downtown area of Sarasota, right off of Main Street. The expanding downtown area is providing an updated movie theater and a high end retail space. Being centrally located downtown, residents will have access to a vibrant arts community, countless restaurants and shopping, as well as access to some of the world's best beaches, all at the foot of your doorstep.
"We specialize in developing attractively designed townhomes in desirable infill locations across the Southeast US," said Icon Residential Principal Mike Bednarski, a managing partner with the developer. "Our team's core strategy is to re-urbanize alluring neighborhoods near city centers that offer a live-work-play environment..," explained Bednarski. Exclusive agent Laura Gahan stated, "this community fills a much needed void in the market because downtown Sarasota has a ton of high-end housing being developed, but there is a lack of luxury condos and townhomes under $750,000." Laura continued, "what also makes these townhomes unique is that they are fee simple rather than condo ownership, so a young working professional couple can purchase a home with 5% down using a conforming loan at today's attractively low interest rates." The Artisan on Main is the second of Icon Residential's Downtown Sarasota townhome communities (Valencia at Rosemary Place is the other) and the first phase of units will be ready for homebuyers to move into next year.
About Icon Residential Development
Founded in Tampa, FL in 2009 by Principals Mike Bednarski, Ryan Studzinski and Peggy Tseung, Icon Residential is a real estate investment and development company, with a strong background in residential real estate investing, construction, brokerage and development.
Icon embraces New Urbanist design principles, such as accessibility to an active urban environment, and promotes the opportunity for a "live, work, play" lifestyle. The company's market approach is tailored to contemporary for-sale housing targeting middle income households and empty nesters in primarily the southeastern United States where it creates innovative and desirable custom solutions for infill, for-sale housing. Icon's portfolio contains a growing collection of boutique urban communities that showcase the company's innovative approach to architecture, design and planning. Icon Residential has offices in Tampa, Atlanta and New York. For more information, please visit http://www.iconresliving.com or email info(at)iconresliving(dot)com.