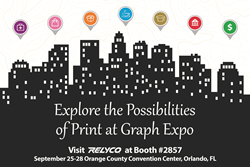 Dover, N.H. (PRWEB) September 20, 2016
Relyco, the specialty paper experts, today announced that its exhibit at GRAPH EXPO 16, at the Orange County Convention Center in Orlando, September 25–28, will highlight printing solutions designed to enable print shops and OEMs to expand the offerings they provide to their current customers, as well as to reach beyond their traditional markets with new solutions that will grow market share across industries. Relyco's exhibit (booth #2857)—Explore the Possibilities—will feature the company's entire product line, including TriDura Durable Paper, DigiPOP Packaging Solutions, REVLAR and REVLAR Vibrant Colors Waterproof Paper, REIMAGE Carbonless Laser Paper, ULTRASEAL Pressure Seal Forms, and a full range of custom solutions, to provide attendees with a comprehensive view of all that is possible with today's specialty paper offerings. Relyco will showcase the multiple solutions available and how they can be used through industry-focused sample kits—for healthcare, government, education, retail, restaurant, manufacturing, and finance—which will include print samples and products to illustrate ten unique applications tailored meet the specific needs of each of these target markets. Relyco will also unveil new specialty paper solutions, exclusive distribution partners, and an expansion of their payment solution portfolio at GRAPH EXPO 16.
"To grow their businesses and expand market share, today's print shops and OEMs must continue to innovate. Relyco delivers unique specialty papers that can help them grow their businesses, whether by expanding the services they offer their existing customers or by identifying tools and strategies that can enable them to open new markets," said Bruce Steinberg, Relyco president. "Relyco has nearly three decades of industry experience and a deep understanding of the challenges our customers face. Our own commitment to innovation enables us to provide high-performing specialty papers that allow our customer to set themselves apart in the marketplace."
Relyco also announced that its TriDura Durable Paper has been nominated for a PrintingNews Top Products Award for 2016; winners will be announced at GRAPH EXPO 16. Recognized in the "Specialty Paper and Substrates" category, TriDura delivers the print quality and foldability of traditional paper, combined with unmatched durability. Visitors to Relyco's booth #2857 can see a host of applications using TriDura.
About Relyco
For more than 25 years, Relyco has been a premier supplier of unique and innovative paper products and custom solutions specifically designed for laser, digital and inkjet printers. From waterproof papers to pressure seal forms to carbonless paper to business checks and so much more, our stock and custom products are great for thousands of applications and uses. Relyco is one of the most innovative leaders in the printing industry, servicing over 20,000 customers including Google, PepsiCo, Samsung, Adobe and Microsoft. For more information, please visit http://www.relyco.com.