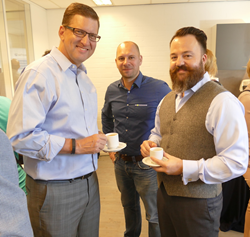 With great success comes a need to scale our efforts larger, especially in a growing tech market like Europe.
(PRWEB) September 14, 2016
wePresent, producer of award winning wireless collaboration solutions, has expanded their global footprint with the grand opening of their new office located in Rotterdam, Netherlands. wePresent employees began officially working at the new offices on September 9th, after a grand opening ceremony that included a golf tournament, dinner and presentation for over 60 partners.
"Since the success we've seen after debuting our improved flagship model, as well as the education-focused model soon after, we've been lucky enough to see tremendous growth in Europe," said wePresent CEO, Dick de Vaal. "With this great success comes a need to scale our efforts larger, especially in a growing tech market like Europe."
The new European office not only features more working space for current and future wePresent employees, but a larger warehouse and a new flagship space for training sessions and demonstrating wePresent products. The company, which has been bolstering its catalog with a larger amount of training material and interaction with industry resellers and distributors, feels this space is key to their continuing expansion.
The grand opening was marked not just with the opening of a new office, but with a golf tournament which included a clinic for new players. Participants from Europe, the US, the Czech Republic, Asia, South Africa and other parts of the world competed in a 3-person Texas Scramble. The tournament itself was capped off with a dinner and awards ceremony for around 40 tournament-goers at the Capella Country Club in Rotterdam.
A taste of wePresent's future is on the horizon: wePresent also announced their intention to debut a new accessory that allows presenters to connect to a presentation unit closest to them by the end of the year. "We are very excited to help grow the education technology market in Europe," says Michael Peveler, VP of Global Sales. "There has never before been such tremendous amount of opportunity in this vertical, and we are poised to meet the need for new solutions both now and in the future."
2016 has been a year of rapid-fire achievement and recognition for the company. After spending most of the year on the trade show circuit, the WiPG-1600, wePresent's newest model geared toward education, along with the SharePod, their point-to-point HDMI presentation accessory, have collectively won six awards, including multiple Best-Of-Show recognitions at ISE 2016, InfoComm, and ISTE.
For more information on wireless presentation solutions by wePresent, visit the company's official website at http://www.wePresentWiFi.com.
###
About wePresent
wePresent™ is a leading provider of wireless presentation systems across the globe. The company's product line offers solutions that enable end-users to move away from cables and connections and move into the world of wireless presentations and collabo-ration. wePresent™ allows up to 64 users to connect and give a wireless presentation, in full 1080p HD, to the display from ANY device, and is compatible with PC, Mac, iOS, Chromebook, and Android.