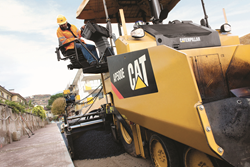 Our goal is to make maintaining your equipment as easy as possible.
San Diego, CA (PRWEB) September 19, 2016
Hawthorne Cat, the exclusive Cat® equipment dealer in San Diego, the Hawaiian Islands and the Pacific Region, announces a new offer on Cat Paver Rebuild Kits. Hawthorne Cat Paver Rebuild Kits make it easy to replace high wear parts and schedule off-season repairs. Each specially designed kit includes all the parts necessary to complete specific repairs and simplify your parts ordering process.
Receive a 10% discount with purchase of Cat paver and screed parts at the Hawthorne San Diego parts counter. Get a 20% discount when you purchase Cat paver and screed parts and have your paver repair performed by the Hawthorne San Diego service team.
Get a bonus complimentary on-site inspection for Cat Vibratory Rollers or Cold Planers. Our trained technicians will inspect your machines and provide detailed repair recommendations.
General Service Manager Paul Kessel says, "Hawthorne Cat offers an outstanding parts and service department. We carry over 1.4 million Cat certified parts in stock available for pick up or online through Parts.Cat.Com." Kessel concludes, "Our goal is to make maintaining your equipment as easy as possible."
Visit the Hawthorne Cat website or call 800.437.4228 for complete offer details.
About Hawthorne Cat
Hawthorne Cat is the authorized dealer for Cat construction and power equipment in San Diego, Hawaii, Guam, Saipan and American Samoa. Hawthorne sells, rents, provides parts and service, training and emission solutions to various industries including general building construction, landscaping, marine, paving and power generation. For more on Hawthorne Cat, visit http://www.hawthornecat.com.