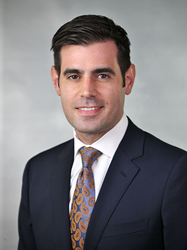 New York, NY (PRWEB) September 15, 2016
Grassi & Co. is proud to announce that Guido Gabriele has been appointed to the role of General Counsel for the Firm effective September 1, 2016.
Guido Gabriele is an experienced litigator and business consultant, bringing ten years of diversified legal expertise. Guido assists in a non-legal capacity with Grassi & Co.'s Forensic, Litigation and Valuation Services Group. Guido specializes in forensic investigations and audits, financial investigations, information technology, and operational internal controls analysis.
He supervises the audit of internal controls of businesses to promote accuracy of financial statements, privacy of user information, and the confidentiality, processing integrity, and security of proprietary business information.
Additionally, Guido works with Grassi & Co.'s Healthcare group, offering consulting services to businesses, government agencies, and not-for-profit organizations in the areas of staff efficiency improvement, internal processes, corporate and HIPAA compliance and utilization of technology.
Guido began his career in the Nassau County District Attorney's Office where he served in the Economic Crimes Bureau and the Technology Crime Unit. While there, he investigated and prosecuted matters of tax fraud, identify theft, computer fraud, hacking, and piracy. More recently, Guido worked as an associate in a local civil litigation firm, focusing on the areas of professional liability, e-Discovery and computer evidence, evaluation of legal and medical documents, and professional licensure.
"In his role as General Counsel, Guido will continue to provide advice and guidance to our management team on legal matters firm-wide," said Ronald Eagar, COO and Partner. "Guido has been a valued professional of the Firm and we anticipate many more continued successes from him in his new role."
Guido graduated from Hofstra University, Zarb School of Business with a Bachelor of Business Administration, Banking and Finance, and earned his Juris Doctor from St. John's University School of Law. Guido is admitted to practice law in New York State, the U.S. District Court, Southern District of New York, and the U.S. District Court, Eastern District of New York.
###
About Grassi & Co.: Grassi & Co. is a premier professional services organization specializing in accounting, auditing, tax, technology, and business consulting. Grassi & Co. has been ranked the 17th largest Accounting Firm in New York by Crain's New York and the 7th largest by Long Island Business News. It was also ranked the 73rd largest in the U.S. by Accounting Today and the 74th largest by INSIDE Public Accounting. They have offices in Manhattan, Long Island and Rockland County, NY as well as internationally through its association with Moore Stephens International. Grassi & Co. specializes in professional services for the Not-for-Profit, Construction, Architecture & Engineering, Financial Services, Life Sciences, Manufacturing & Distribution, Retail, Technology, Media & Telecommunication, Transportation, Energy & Natural Resources, and Healthcare industries, among others.