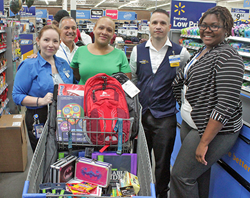 Suitland, Maryland (PRWEB) September 15, 2016
Andrews Federal member, Ms. Ronda Mozie, was recently awarded a school supplies shopping spree for her two children by the Credit Union.
The shopping spree and backpack giveaway winner was selected as part of a raffle at the 4th Annual Greater Washington Urban League's 2016 Health & Wellness Back-2-School Festival. Andrews Federal Credit Union was a sponsor of the event held at the Thurgood Marshall Center for Service and Heritage. The event assisted area residents with health screenings provided by Trusted Health Plan. Attendees were given opportunities for pediatric dental screenings led by Howard University College of Dentistry, which yielded a total of 185 young people receiving on the spot dental care. Service providers assisted residents with enrollment in health plans and provided parents with valuable health information.
The shopping spree was held at the Brightwood Wal-Mart, next door to the Credit Union's Brightwood Branch, in Washington, DC. Ms. Mozie was assisted by Andrews Federal employees Patricia Robinson, FSR, Vanessa Hilton, MSR, and Stan Koussis, Community Development Manager.
About Andrews Federal Credit Union
Andrews Federal Credit Union was founded in 1948 to serve the needs of military and civilian personnel by providing a vast array of financial products and services. With over $1 billion in assets, Andrews Federal has grown to serve more than 113,000 members in the District of Columbia, Joint Base Andrews (MD), Springfield, Virginia (VA), Joint Base McGuire-Dix-Lakehurst (NJ), and military installations in central Germany, Belgium, and the Netherlands. In addition, the Credit Union serves as a financial partner with many select employee groups in Maryland, the District of Columbia, and New Jersey.
To learn more about Andrews Federal Credit Union and its community involvement, or to become a member, call 800.487.5500 or visit http://www.andrewsfcu.org.