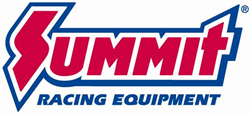 Tallmadge, OH (PRWEB) September 17, 2016
Summit Racing now offers Chicago Brand mechanic's measurement tools and Race Ramps Pro-Chock wheel chocks, and Summit-branded tools and shop equipment.
Chicago Brand Precision Measuring Tools
Building a well-running vehicle demands attention to detail—the kind of detail that Chicago Brand Precision Measuring Tools can deliver. Chicago Brand offers engine builders and machinists a collection of tools accurate enough for pro shops, yet affordable enough for the home garage--calipers, dial bore gauges, micrometers, and more.
Race Ramps Pro-Chock Wheel Chocks
Race Ramps Pro-Stop Wheel Chocks could spell the end of dinged bumpers and bent golf clubs. They install on a garage or trailer floor and provide a secure stopping point for a vehicle. Simply pull the vehicle forward until the wheels fall into the ramps' recesses—the wheels will be held in place until the vehicle is backed out of the chocks.
Summit Racing Brand Shop Equipment
Summit Racing now offers several new pieces of shop equipment for the home garage.

Perfect for drying floors or cooling down hot engines, Summit Racing's Air Blower flows air up to 3,000 feet per minute. At its highest setting, the blower's two-speed motor draws only 2.5 amps and has a built-in circuit breaker for added safety
Summit Racing Grease Gun Holders store most standard-style grease guns safely out of the way and more importantly, have a handy tray to catch grease drips. The holders can also be used to store a canister style propane torch.
Installing a harmonic damper on a GM LS engine can be an exercise in frustration and gouged knuckles. Summit Racing's Harmonic Balancer Installation Tool for the GM LS makes short work of the difficult procedure, saving time, money, and sanity.
Summit Racing Equipment
http://www.summitracing.com
1-800-230-3030