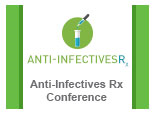 I look forward to attending Anti-Infectives Rx this year in Boston. As with other BBC meetings, this conference is sure to provide an unparalleled gathering of industry leaders and excellent networking opportunities
Boston, MA (PRWEB) September 16, 2016
Industry leaders and decision makers will discuss tackling resistance, social responsibility, the regulatory landscape, breakthroughs in infectious disease and more. Rita Colwell, former Director of the National Science Foundation will deliver a keynote and Sandra Burchett of Boston Children's Hospital will join David Knipe of Harvard Medical School to discuss the Zika Outbreak and Response. Other confirmed participants include Marianne De Backer (VP, Johnson & Johnson Innovation), Shyam Bishen (Deputy Director, Bill and Melinda Gates Foundation), John Farley (Deputy Director, Antimicrobial Products, FDA), Shalabh Gupta (CEO, Globavir BioSciences), Jay Luly (CEO, Enanta), Ankit Mahadevia (CEO, Spero Therapeutics), among others. Leading investors from ARCH Venture Partners, Longwood Fund, MP Healthcare, Piper Jaffray, New Enterprise Associates and Versant Ventures will also be in attendance. 
As Chip Clark, CEO of Genocea Biosciences says, "I look forward to attending Anti-Infectives Rx this year in Boston. As with other BBC meetings, this conference is sure to provide an unparalleled gathering of industry leaders and excellent networking opportunities. I am happy to participate as well as to listen in on the exciting and informative panels that will delve into the most pressing issues in the anti-infective, antiviral and antibacterial space today."
Anti-Infectives Rx is sponsored by Pfizer and the BioPharma Executive Council.
To view the agenda and for more information, please visit:
http://bbbiotechconference.com/conference-agenda.php?id=44
ABOUT THE BOSTON BIOTECH CONFERENCES (BBC)
The Boston Biotech Conferences (BBC)'s mission is to build a vibrant community of bio-pharma leaders, which will help to drive innovation in biotech, and bring important drugs to patients more quickly. The conferences are exclusive, thought-leader forums for senior bio-pharma executives. Each conference is highly interactive and co-hosted by healthcare industry leaders to foster discussions and facilitate information-sharing, networking and corporate development within the bio-pharma community. The meetings are invitation-only, off-the-record forums that bring together the past, present and future leaders in the healthcare community to network, exchange ideas and share insights into the industry's challenges and opportunities. For more information or to register, visit http://www.bbbiotechconference.com