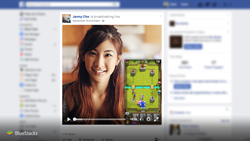 "As I grow my audience, engaging my fans across multiple networks becomes important to keep everyone engaged. I have already used Bluestacks TV on Twitch and I loved the simplicity of the feature. I can't wait to stream again."
Palo Alto, CA (PRWEB) September 22, 2016
Today, mobile gaming platform BlueStacks announced an integration with Facebook Live that allows users to stream mobile apps directly to Facebook for the first time. BlueStacks' 150 million+ users can now livestream any app from inside BlueStacks to their own profile, their friend's timelines, or their own fan page. The company is among the largest yet to integrate Facebook Live's recently launched APIs. Facebook boasts 1.65 billion users of which 650 million play games on Facebook or logged in with Facebook.
"Contextual streaming is the future of live," said BlueStacks CEO, Rosen Sharma. "By giving people the ability to pair live streams with any app, it allows them to create more engaging content. We want to free people up to engage in app-fueled experiences like singing with Smule's 'Sing! Karaoke or sharing their gameplay from VainGlory. Our initial Twitch integration was an ideal showcase of what this can be in the gaming world. With this expansion to Facebook Live, we are adding the other million plus apps out there to the livestreaming ecosystem."
Given Facebook's size and reach, adding another promotional channel is a boon for mobile developers and publishers. Influencers can showcase apps to their audiences without the heavy production required for traditional video campaigns. By enabling the audience to interact directly with streamers, BlueStacks provides a never-before-seen level of live access.
In addition to integrating Facebook Live, BlueStacks has partnered with China-based streaming services, PandaTV and DouYu to bring mobile app streaming to 420 million mobile gamers. As the mobile gaming market continues to grow in China, an increasing share of PC users have been playing mobile games. In a recent survey conducted by Forbes magazine, over 30% of Chinese mid and hardcore mobile gamers played games on a PC. By bringing streaming to BlueStacks' growing market in China, the company is excited to bring mobile app streaming to an already mature personal streaming market.
To kick-off the launch of their Facebook Live integration, BlueStacks recruited several high profile YouTube celebrities ranging from musicians to gamers to livestream themselves and their favorite apps to their millions of fans. YouTube celebrity TheAlvaro845 will be hosting a Clash Royale tournament and streaming it live via the new Facebook Live streaming function on BlueStacks' Facebook page. The tournament stream begins at 12pm EDT/9am PDT on September 22nd, 2016. "I am thrilled for the Facebook Live integration into Bluestacks," says TheAlvaro845, "As I grow my audience, engaging my fans across multiple networks becomes important to keep everyone engaged. I have already used Bluestacks TV on Twitch and I loved the simplicity of the feature. I can't wait to stream again."
Based in Silicon Valley with offices in Beijing, Delhi, London, Tokyo, Seoul and Ho Chi Minh City, BlueStacks is funded with 27M USD from Ignition Partners, Radar Partners, Andreessen-Horowitz, Samsung, Redpoint, Qualcomm, Intel, Presidio Ventures (a Sumitomo Corporation Company), Citrix, AMD and Helion Ventures. The 100-person company launched in May, 2011 and the first version of its App Player was released in March, 2012.