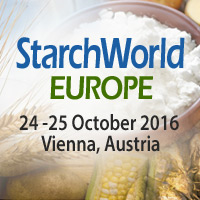 CMT's Starch World EUROPE to be held on 24-25 October in Vienna, seeks to unravel clear definition of "clean label"
Vienna, Austria (PRWEB) September 20, 2016
In line with growing awareness of natural or label friendly options, companies are launching products to meet customers' preference.
In the forefront are Beneo that showcased their native rice starch recently, Avebe with their clean label potato starch for meat applications, and Igredion offering of its broadest range of clean label starches to date.
Yet, there is still no clear definition of what a "clean label" might be and this is one of the many issues that CMT's Starch World EUROPE to be held on 24-25 October in Vienna, seeks to unravel.
On Day One, Cesare Varallo, a Food Lawyer from Food Law Latest, examines Gluten Free and Clean Labelling from a legal perspective. The presentation is closely followed by Kevin Bael, Product Manager for Beneo Belgium, discussing high Performance Clean Label Rice Starch: Uniqueness & Major Applications. The subject is further expanded on Day Two by Maurice Essers, Project Leader for TNO Quality of Life as he shares new processes for making Clean Label and Healthy Carbohydrates.
Other Summit highlights include topics on:

Keynote speech from AGRANA – Europe's leading starch producer on evolving with the challenges in Europe
Macroeconomic perspective of the European economy post Brexit
EU Sugar & Sweetener Reform market outlook
Potential Impact of TTIP with US on the European Starch industry
Use of pea starch and chicory extract to promote piglet gut bacteria for feed and petfood market
Grain processing facilities for the production of starch sweeteners with case studies in Russia
Sustainable stabilization and encapsulation technology from small granular starch
Innovative starch and protein concentrates from pulses
Ukraine's starch and sugar industry following Free Trade Agreement with the EU
Valorisation of starch side streams into biodegradable plastics
For more information about the Summit, visit event website or contact Ms Hafizah at hafizah(at)cmtsp(dot)com.sg,