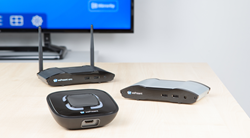 "We're growing a lot this year, and being able to offer our products to government agencies through the GSA schedule is a big step for us." -Michael Peveler, Vice President of Global Sales for wePresent
Dallas, TX (PRWEB) September 16, 2016
wePresent products, are now available for purchase on the GSA contract. This contract eases the process of purchase for those Government entities who want to make their purchases using a contract vehicle.
wePresent, whose product line has won eight best-of-show awards in 2016 following several industry trade shows, is already present in many government facilities, such as courtrooms, schools, and municipal agencies. This agreement opens many doors for agencies to make the move to wireless presentation, which is quickly becoming a standard for conference, meeting and training rooms around the world.
"I am very excited to have our product line included on the GSA contract. This development will make transactions easier for our reseller network, as well as our end users who traditionally work with purchasing contracts," said wePresent Vice President of Global Sales, Michael Peveler. "We're growing a lot this year, and being able to offer our products to government agencies through the GSA schedule is a big step for us."
wePresent offers wireless, BYOD-style collaboration that works on almost any platform, with support for Windows, MacOS, Android, and iOS. In addition, earlier this year, the company released SharePod, a point-to-point accessory capable of displaying any device with HDMI output.
"We're confident that with SharePod, we've got the rest of the devices covered," Peveler said. "Any other devices you might find in federal or government offices, like Linux laptops, document cameras, or even server terminals, we've got covered with the same features and the same security as the rest of the wePresent lineup."
wePresent is also expected to release a proximity-based accessory to their product line, which allows devices to connect automatically to the nearest receiver. Called the PresentSense, it's expected to make its debut in the first portion of Q4 2016.
Sales to government agencies are possible thanks to an agreement with the SYNNEX Corporation, through GSA schedules GS-35F-0143R and GS-03F-053DA. More information can be found by emailing gsa(at)synnex.com. More information about the wePresent wireless presentation gateway can be found by contacting their sales team via email at sales(at)wepresentwifi.com.
##
About wePresent
wePresent™ is a leading provider of wireless presentation systems across the globe. The company's product line offers solutions that enable end-users to move away from cables and connections and move into the world of wireless presentations and collaboration. wePresent™ allows up to 64 users to connect and give a wireless presentation, in full 1080p HD, to the display from ANY device, and is compatible with PC, Mac, iOS, Chromebook, and Android. More information on their product line can be found at wepresentwifi.com.For more information on wireless presentation solutions by wePresent, visit the company's official website at http://www.wePresentWiFi.com.
About SYNNEX Corporation
SYNNEX Corporation (NYSE:SNX), a Fortune 500 corporation, is a leading business process services company, optimizing supply chains and providing outsourced services focused on customer relationship management. SYNNEX distributes a broad range of information technology systems and products, and also provides systems design and integration solutions.  Concentrix, a wholly-owned subsidiary of SYNNEX Corporation, offers a portfolio of strategic solutions and end-to-end business services around customer engagement strategy, process optimization, technology innovation, front and back-office automation and business transformation to clients in ten identified industry verticals. Founded in 1980, SYNNEX Corporation operates in 26 countries around the world. Additional information about SYNNEX may be found online at http://www.synnex.com.