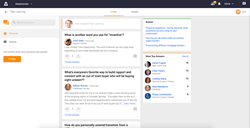 Chicago, IL (PRWEB) September 22, 2016
New Home Star revolutionized the new home sales industry with the creation of its sales enablement platform, New Home Connect. This platform has enabled approximately 500 sales associates across the country to create dynamic community management tools, explore hundreds of marketing ideas, and engage with a robust network of sales professionals to share best practices. September launched New Home Connect's most impactful update yet, with a wide array of new features, as well as a completely redesigned interface.
"Our sales agents lead very hectic lives, managing large backlogs and selling at a rapid pace. This update places our most powerful tools in front of them from the moment they log in," says Chris Laskowski, Marketing Manager for New Home Star. "Since New Home Connect has so many unique applications, ranging from interactive competition analysis tools to a video training classroom, this new upgrade synchronizes popular content to the main dashboard. So far, this change has been met with extremely positive feedback from our users."
The new release offers the following additions:

New and improved dashboard, complete with a live feed.
Redesigned interface for marketing campaigns, discussion forums and peer groups.
Simplified approach to requesting complimentary marketing support.
Redefined 'sales associate marketing initiative' creation process, designed to guide professionals in planning more powerful, traffic-driving initiatives.
To learn more about New Home Star and its New Home Connect platform, visit http://www.newhomestar.com.
About New Home Star
New Home Star is a national real estate sales management firm serving homebuilders and developers across North America. They recruit, select and develop sales teams with a full-time focus on new home sales, working with some of the largest homebuilders in the U.S. and Canada, as well as small and mid-size companies. With a network of local sales divisions from coast to coast, New Home Star delivers sales solutions for businesses with a national perspective and a local presence. Their business goal is simple: To Sell More Homes, More Profitably™. For the latest updates on new home sales, follow @newhomestar.