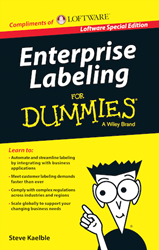 Written for executives and other supply chain professionals, this book helps readers quickly get up to speed on everything labeling.
Portsmouth, NH (PRWEB) September 19, 2016
Loftware, Inc., the global leader in Enterprise Labeling Solutions today released an informative new eBook that offers an easy to understand explanation of Enterprise Labeling and how to streamline supply chain processes through better barcode labeling. For a limited time, the digital version of "Enterprise Labeling for Dummies" is available as a free download here.
Written for executives and other supply chain professionals, this book helps readers quickly get up to speed on everything labeling. It spells out the essentials for Enterprise Labeling success and highlights labeling trends that are keeping companies on their toes. It offers background on the evolution of barcode labeling and provides insight on the value of connecting labeling with existing business processes. The book also highlights the efficiencies that Enterprise Labeling will have on a company's supply chain.
Some of the topics include how Enterprise Labeling can help "Bring Order to Complexity" to meet evolving labeling requirements while saving time and money and how to "Tame the Beast" with a standardized Enterprise Labeling approach. The book also outlines how to automate and streamline labeling to achieve labeling flexibility, consistency and accuracy to quickly and efficiently to meet a wide range of your customer and regulatory requirements. Additionally, readers can learn how to "Turn Up the Volume" and scale globally to support changing business needs.
Registration is required to download the free e-book, which is available for only a short time. For more information or to obtain a digital copy please visit the Loftware website or the Enterprise Labeling for Dummies page.
About Loftware
Loftware, Inc. is the global market leader in Enterprise Labeling Solutions with more than 5,000 customers in over 100 countries. Offering the industry's most comprehensive labeling solution, Loftware's enterprise software integrates SAP®, Oracle® and other enterprise applications to produce mission-critical barcode labels, documents, and RFID Smart tags across the supply chain. Loftware's design, native print, and built-in business rules functionality drives topline revenue, increases customer satisfaction, and maximizes supply chain efficiency for customers. With over 30 years of industry leadership, Loftware's Enterprise Labeling Solutions and best practices enable leading companies to meet their customer-specific and regulatory requirements with unprecedented speed and agility.
About For Dummies®
To people who value knowledge, dummies is the platform that makes learning anything easy because it transforms the hard-to-understand into easy-to-use. Through expert editorial, engaging experiences and an approachable style, learners at every level can confidently use their knowledge to fuel their pursuit of professional advancement and personal betterment. With a commitment to maintaining the highest editorial standards and a promise to continue developing new, innovative digital experiences, dummies makes learning anything even easier.
For more information, visit dummies.com. Dummies is a branded imprint of Wiley.
###