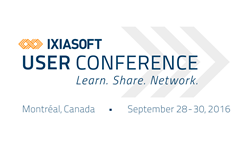 We are pleased to welcome our DITA CMS customers from all over the world to this year's User Conference. Our 2016 attendees represent 13 countries – all the way from Japan and India, to across Europe and North America... - Eric Bergeron, IXIASOFT CEO
Montreal, Quebec (PRWEB) September 20, 2016
IXIASOFT, a global leader in the component content management systems (CCMS) marketplace, announced its 5th annual User Conference, which will be held September 28 – 30, 2016 in Montreal, Canada. This year's event is sponsored by IXIASOFT partners: Congility, Fluid Topics, HyperSTE (Etteplan), and Zoomin Software.
"We are pleased to welcome our DITA CMS customers from all over the world to this year's User Conference. Our 2016 attendees represent 13 countries – all the way from Japan and India, to across Europe and North America – making our 5th annual conference our largest one yet!'' says Eric Bergeron, IXIASOFT CEO.
The User Conference is an opportunity for IXIASOFT customers, partners, and team members to get together and share their knowledge and experiences working with DITA and the IXIASOFT DITA CMS. Professionals such as information architects, technical writers, team managers, CMS admins, and toolsmiths from a variety of industries will gather to learn, share, and network over the two-and-a-half-day event.
"From best practices to case studies, our User Conference is designed to help our customers get the most out of their DITA CMS, while allowing us to gain a broader understanding of how our customers across various industries are using our CCMS for their documentation needs." says Caroline Couvrette, IXIASOFT Vice President of Sales and Marketing. "Our customers will also have the opportunity to speak with our sponsoring partners to learn more about how their tools can optimize and extend the functionality of the IXIASOFT DITA CMS.''
In addition to IXIASOFT DITA experts and partners, several IXIASOFT DITA CMS customers will also present at the conference, including SAP, Ericsson, Teradata Labs, Allscripts, Infor, ARM, DS SolidWorks, and Intel (Altera) to name a few.
More information about the 5th annual IXIASOFT User Conference can be found on the IXIASOFT website.
About IXIASOFT: Founded in 1998, IXIASOFT is a trusted global leader in the XML content management software industry. Its signature product DITA CMS is an award winning, end-to-end component content management solution (CCMS) deployed by industry leaders such as SAP®, ARM®, AMD and BlackBerry®. From authoring to reviewing, localizing and publishing, DITA CMS provides all the tools required for large, global organizations to support their entire DITA documentation process. IXIASOFT is also the developer of TEXTML Server, a native XML database and powerful search engine. IXIASOFT solutions are accessed by thousands of users worldwide in various vertical markets such as software, hi-tech, newspaper, and medical device manufacturing.
For more information, please visit ixiasoft.com or connect with IXIASOFT on Twitter and LinkedIn. Already a DITA CMS user? Join the IXIASOFT DITA CMS User Group on LinkedIn.