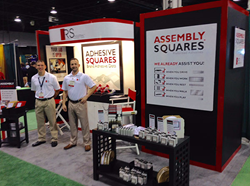 Our goal is to really engage current and potential customers to find out more about their applications and provide a solution to their challenges.
Buford, GA. (PRWEB) September 21, 2016
RS Industrial, Inc., a leading distributor and manufacturer of adhesives, has announced it will be exhibiting at Pack Expo 2016, held on Nov. 6-9 at the McCormick Place in Chicago, Ill.
RS Industrial provides a wide selection of adhesive solutions for many industries, ranging from general packaging and labeling to product assembly and contract packaging.
The adhesive manufacturer will be featuring its Adhesive Squares™ brand adhesive dots. Adhesive Squares™ are preformed, double-sided, pressure sensitive adhesives widely used in the packaging industry. Available in many sizes, thicknesses and tack levels, Adhesive Squares™ are formulated for easy release from liner and instantly bond many surfaces.
"We look forward to sharing new and innovative product technologies at Pack Expo," said Mike Byrne, National Sales Manager at RS Industrial. "Our goal is to really engage current and potential customers to find out more about their applications and provide a solution to their challenges."
Attendees will have the opportunity to engineer their own adhesive with a demo of the new, interactive Build-A-Bond™. Build-A-Bond is an online tool that allows users to customize an Adhesive Squares™ product to match the specifications of their application. RS Industrial representatives will guide users through the engineering process, demonstrating how to select desired dimensions, bond strength, mil thickness and other adhesive options.
As a member of the CPA (Contract Packaging Association), RS Industrial will be available at the CPA Meet & Greet Happy Hour at the Contract Packaging Sourcing Center booth (N-5801). The Meet & Greet takes place on Tuesday, Nov. 8 from 3:30 - 5 p.m. and provides a beneficial networking opportunity for those seeking contract packaging services.
Visitors can stop by the RS Industrial booth at N-6286. Sales and technical representatives will be on hand to answer questions and review any current or potential applications. Demos and samples will be available for attendees to conduct testing during the show or bring back to their facility for future testing.
About RS Industrial, Inc.
In 1993, RS Industrial was born because the company's founders realized that adhesive users needed a hands-on, consultative approach to service that their current suppliers were not providing. Since then, we have continued to provide this service via speed, adaptability, customization and product technology. What makes us different from the others? Put simply, our passion for our customers.
Our company is a collection of 4 strategically located warehouses, 40,000 square feet of offices and more than 30 passionate employees—all dedicated to filling the void of hands-on service that our company leaders discovered more than 20 years ago. RS Industrial is headquartered in Buford, Georgia.