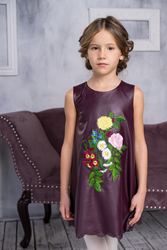 (PRWEB) September 21, 2016
New York Fashion week foretells next year's biggest trends to be on the lookout for. Many New York designers have embraced leather heavily into their collection this season. From trench coats to skirts, leather has made quite an appearance on the runway.
Love Made Love has put its own spin on patent leather. One of their most notable pieces is a maroon sleeveless, leather dress with intricate floral embroidery in the front. Also available in a long sleeve version, the dress can be paired with white tights and a heavy coat.
Love Made Love offers the latest designs in high fashion through their Fall/Winter 2016 collection, which highlights the velvet and leather trends on Fashion Week runways. Love Made Love pieces balance style and elegance with age-appropriate fashion. Their fashion forward collection includes:
Textured fabrics such as velvet, soft leather, and lace.
Floral prints, bows and a range of hues
Choose from a variety of styles such as long sleeve and ¾ sleeve dresses, and printed zip up sweaters.
Founded in 2011, Love Made Love focuses on children's clothes between the ages of 1 and 13. The brand's creative designer is a mother of 3 boys and believes all children should look as special as they are. In 2015, Love Made Love earned 2nd place in the "Designer of the Year" category for the U.K. Junior Design Awards in a competition with over 500 international brands. These designs are usually worn for special occasion or for an every day glam look. Love Made Love can be found at luxury retailers in New York, Canada, Russia, Kuwait, Lebanon, UAE, Saudi Arabia, Qatar, the Netherlands, South Korea and in the U.K. at Harvey Nichols. The designs can also be ordered from some of the most popular online boutiques such as: http://www.childrensalon.com, http://www.alexandalexa.com, http://www.childsplayclothing.com, and many more.