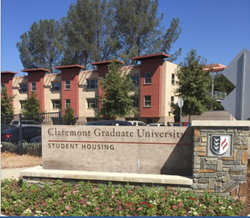 We are honored to partner with such an esteemed institution as Claremont Graduate University for the CGU Apartments, said Doug Brown, President of COCM.
Birmingham, AL (PRWEB) September 22, 2016
COCM (Capstone On-Campus Management) is pleased to announce its newest partnership, with Hanover Pacific, LLC (Hanover Pacific) on its student housing project at Claremont Graduate University in Claremont, California. COCM has been chosen by Hanover Pacific to be the provider of management and operational services for the Claremont Graduate University Apartments student housing facility.
The Claremont Graduate University Apartments (CGU Apartments), owned by Claremont Graduate University, are nestled into the foothills of Claremont, closely surrounded by art, entertainment, eateries, and agriculture. With the Rancho Santa Ana Botanical Garden and San Gabriel Mountains neighboring the facility, the views are breathtaking. The community opened its doors in 2008 and is comprised of five buildings with 241 bed spaces. The selection between five floor plans (with apartment or suite style living) and its close proximity to the university, makes the CGU Apartments the ideal selection for housing.
COCM operates the facility under a Full Operations management model, wherein COCM, in conjunction with Hanover Pacific, assumes responsibilities for all facets of the overall operation of the facility.
The addition of Claremont Graduate University grows COCM's management portfolio to 30 campuses nationwide, providing services to more than 26,000 student residents.
About COCM
COCM, is a group of student housing professionals focused exclusively on the management of housing communities owned by non-profits and/or highly affiliated with a university. Headquartered in Birmingham, Alabama, COCM provides management services for over 26,000 beds at 30 campuses. For more information about COCM, please visit cocm.com and studenthousingmatters.com.