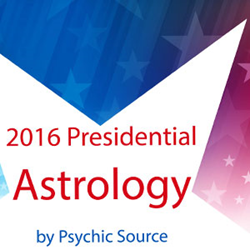 Donald Trump's astrology chart indicates he really wants to make a difference. Hillary Clinton's reveals a major turning point in her political career.
Langhorne, PA (PRWEB) September 22, 2016
Hillary Clinton is a Scorpio; Donald Trump, a Gemini. Of all the facts, stories, reports and conjectures about the 2016 Presidential candidates, what can Clinton's and Trump's zodiac signs contribute to our understanding of the upcoming elections? Psychic and astrologer Suzi at Psychic Source, the most trusted psychic service since 1989, just published a detailed reading of Trump's and Clinton's astrology charts, with some surprising revelations.
Earlier this year, In a Fox Business article, astrologer Susan Miller provided an overview of Trump's and Clinton's zodiac signs and what they might mean for them as presidential contenders. Now, with the election less than eight weeks away, comes Suzi's more in-depth analysis, with insights about potential election outcomes.
According to Suzi's astrological reading, Mr. Trump's "moon and emotional compass is in smart, fiery Sagittarius, a notorious placement for brutally direct, frank speech that can get carried away," while his "highly patriotic Cancer placements indicated someone who really wants to make a difference." For Secretary Clinton, "a Pisces moon lends great empathy and compassion towards others" but "can lead her astray with blurred boundaries."
Looking specifically toward the first presidential debate on September 26th, Suzi says "both candidates have their planet Mars (action) in the sign of Leo that night," suggesting a night of "sizzling tirades and shocks." Plus, "the volcanic late Taurus Rising will up the ante, setting the stage for a wild night of debating!" Then, beyond the debates, Suzi reveals that, taken together, the Hillary Clinton and Donald Trump astrology charts suggest an "extremely close" election with one candidate "winning by only a whisker of a nose!"
Who will that candidate be? Suzi cannot say for sure. But, she says, "Hillary Clinton's moon in Pisces" on election night "points to a major turning point in her career."
*****
About Psychic Source:
Founded in 1989, Psychic Source is the nation's oldest and most respected psychic service. Psychic Source's advisors are experts in astrology, horoscopes, numerology, tarot cards, clairvoyant readings, and many other psychic disciplines. Psychic Source believes in its community of authentic Psychics and stands behind the authentic psychic readings they deliver to clients. Visit them online at http://www.psychicsource.com.
For more information, contact:
Maryanne Fiedler, Marketing Director
maryanne(at)psychicsource(dot)com
215-953-8568