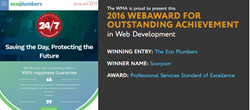 (PRWEB) September 21, 2016
The team of Columbus plumbers at The Eco Plumbers is proud to accept the 2016 WebAward for Outstanding Achievement in Web Development for Professional Services Standard of Excellence. For the past 17 years, The Web Marketing Association (WMA) has assisted in setting the standard for internet marketing. Now, the organization holds this annual website award competition, the WebAward Competition, which names the best websites across 86 different industries. This specific achievement is awarded to companies who demonstrate above average, visually engaging websites.
An Exceptional Website to Match Exceptional Services
The Eco Plumbers cares about providing the best possible customer experience. That is why our team believes that a top-tier functional website is key to matching the level of services we provide on a day-to-day basis. When a potential client enters The Eco Plumber's website, they can rest easier knowing they can effortlessly obtain information regarding all of the company's services.
About The Eco Plumbers
At The Eco Plumbers, our team provides professional and efficient workmanship for every job they perform. Because our team understands that plumbing issues can arise during the most inconvenient hours of the day, we offer services 24 hours a day, 7 days a week. In addition, we provide free in-house inspections and service quotes.
To learn more about The Eco Plumbers and the services we offer, visit our website.