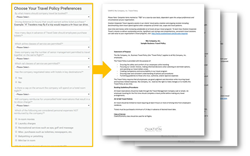 Ovation's automated online tool generates customized, editable sample travel policy documents at the click of a button.
(PRWEB) September 22, 2016
Organizations looking to create a corporate travel policy from scratch or to augment or audit an existing policy can now visit http://www.ovationtravel.com/sample_travel_policy to access an automated online tool which generates customized, editable sample travel policy documents at the click of a button.
Ovation Corporate Travel, the 5th largest travel management agency in the U.S. by volume, according to Business Travel News, developed the custom travel policy generator to serve as a complimentary travel resource for any organization looking to develop a custom travel policy. Ovation's proprietary tool generates individualized, editable documents in Microsoft Word format. Each sample travel policy's custom content is based upon a user's responses to an online questionnaire.
Using the tool, thousands of document variations can be generated, based upon the user's preferences for their organization. Each customized document includes the following basic travel policy categories:
− Statement of Purpose
− Booking Guidelines/Procedures
− Air & Rail Travel Policies
− Lodging/Accommodations Policies
− Rental Car Policies
− Meal Reimbursement Policies
"Whether you're a startup looking to formalize an appropriate travel policy for your growing business or an existing organization whose travel policy might date back a decade or so, this tool is going to be useful for you," noted Executive Vice President, Michael Steiner. "We've covered the brass tacks of a corporate travel policy with this generator. These are the must-have categories every policy should include, and based upon a user's answers to the questionnaire, there are thousands of variations in the document you're going to get in return. It's incredibly customized and at the same time, it's really just a starting point for a complete travel and entertainment policy."
Ovation services over 700 clients, including over 225 financial services firm clients and over 200 law firms through its law firm-focused subsidiary, Lawyers Travel. Ovation regularly assists in its clients' travel policy creation and ongoing revision including benchmarking client travel spend against other companies of similar size, scope, and travel patterns.
Additional categories to consider for a corporate travel policy, not included in the sample travel policy document, may include:
− Approval Processes
− Business Guest Travel
− Cash Advances
− Cell Phone, Smart Phone, WiFi, etc. Policies
− Documentation & Tax Requirements
− Duty of Care
− Emergency Travel Guidelines
− Entertainment
− Expense Report Guidelines
− Foreign Currency Conversion
− Form of Payment
− Gifting Guidelines
− Gratuity Guidelines
− International Insurance
− Non-Reimbursable Expenses
− Other Transportation
− Personal Travel
− Recruitment/Candidate Travel
− Subscriptions
− Travel Time (RE: Overnights and Weekends)
− Traveler and Travel Arranger Profile Policies
To create a custom, editable travel policy document using Ovation's sample travel policy generator, visit http://www.ovationtravel.com/sample_travel_policy.
About Ovation Corporate Travel
Ovation Corporate Travel is a $1 billion travel management company in conjunction with its sister companies Lawyers Travel and Ovation Vacations. Ovation Corporate Travel manages travel services for prominent finance, entertainment, retail, consulting and professional service firms. Our mission is to provide outstanding service, cost savings and comprehensive travel solutions to professional travel managers, administrators and business travelers. Ovation is the 5th largest TMC by sales volume in the country according to Business Travel News, receiving accolades from more than 700 discerning clients. Ovation operates in over 50 offices nationwide and globally in more than 110 countries. For more information, please visit http://www.ovationtravel.com.