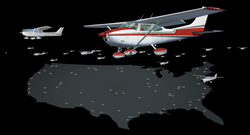 We've completely re-invented aerials by taking out the cost and time
Redmond, Washington (PRWEB) September 23, 2016
Stockpile Reports, an inventory management system aggregate and construction companies use to measure, manage, and audit materials inventory at scale, today announced the release of their new Aerials Service.
CEO, David Boardman says, "We've completely re-invented aerials by taking out the cost and time. Traditionally aerials cost companies $6,000 and take two weeks to get their measurement results, we've reduced that by as much as tenfold." Boardman went on to say, "Drones are great but they can't scale. Companies thinking that drones will solve their inventory problems are just swapping the previous survey crew bottleneck for a new bottleneck of a small group of drone pilots. With our Aerial Service, they could get inventory done at all their sites around the country inside of a couple days—without leaving their desks."
Here are some statistics about the Stockpile Reports Aerial Service:

Has been in development for the last 12 months
Used over 1,000 times to date by several of Stockpile Report's top customers
Has pilots in every region in North America
While total drone flights are 145% that of planes, total tonnage measured by planes are 180% that of drones.
Established customers have settled into a pattern of both drones and aerial flights. Drones to handle special spur of the moment measurements and aerial flights to handle recurring scheduled inventories.
The average drone pilot tops out at the ability to measure 5 sites a day, where plane flights can measure over 20.
Stockpile Reports provides both aerial and ground-based measurement tools via Drone, Plane, and iPhone to accurately measure volume and tonnage of materials. They provide a cloud-based web portal for measurers, site managers, and operations and finance executives, where they can view, manage, and audit their inventory.
Stockpile Reports is based in Redmond, WA and has offices in Oregon, Texas, Georgia, and North Carolina. It is used by hundreds of companies in 23 countries around the world.
For inquiries, contact us at: tony.jacobson(at)stockpilereports(dot)com or +1 (425) 285-4303
Site and Stockpile Videos: