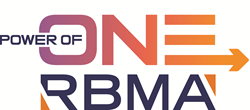 RBMA is one of the best kept secrets for radiology management success.
Fairfax, VA (PRWEB) September 26, 2016
Today, the Radiology Business Management Association proudly launches a unique campaign called the Power of One that aims to increase membership and the value of the organization.
"RBMA is one of the best kept secrets for radiology management success," said RBMA President, James Hamilton, MHA, CMM, FRBMA. "We want to share the many benefits of association membership with more people. The Power of One encourages every existing RBMA member to recruit one new member for 2017."
A growing RBMA means greater advancement of the profession; improved educational, networking and peer collaboration opportunities for members; and an increased nationwide compilation of data and resources. RBMA hopes to reach the milestone of having 3,000 members.
To help RBMA members spread the word about the benefits of joining, the RBMA has created a dedicated website at rbma.org/powerofone with videos, talking points, facts about RBMA, justification letters, membership application, and special membership promotions and discounts. There's also incentives for chapters and corporate partners who help recruit new RBMA members.
"The RBMA's moto is 'Progress Through Sharing,'" said Jessica Struve, CAE, senior manager of Membership and Innovation at RBMA. "We believe the best and most reliable way to advance in any career is to help others in your field advance alongside you. We named our membership drive campaign the Power of One because at the heart of all of the RBMA's activities is one member helping another member succeed."
Some of the many benefits of RBMA membership include:

Resources for staying up to date on the latest legislative and regulatory changes that will impact practices.
A network of professionals to collaborate with and learn from.
Member-only publications and electronic news alerts.
Exclusive online forums for expert advice on coding, practice management, marketing and more.
The new RBMA PARADIGM annual conference, as well as state chapter, marketing education and advocacy conferences.
Continuing education options and discounts on RBMA U online radiology business management courses.
Practice benchmarking through its practice analytic solution and Hot Topic surveys.
Access to the RBMA Career Center jobs board.
New members who sign up for a 2017 membership between now and the end of the year will also get membership in RBMA for the remaining months of 2016 for free.
About RBMA
Founded in 1968, the Radiology Business Management Association is a national not-for-profit association providing members with applied business information and intelligence applicable in any radiology setting. RBMA represents more than 2,300 radiology practice managers and other radiology business professionals. Its aggregate influence extends to more than 24,000 radiologic technologists and 26,000 administrative staff and physicians. RBMA is the leading professional organization for radiology business management and is recognized for its radiology-specific educational programs, products and services, publications and data. The resources and solutions RBMA offers its members and the broader health care community are helping to shape the profession's future.