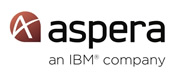 Chicago, Illinois (PRWEB) September 22, 2016
SharePoint Fest Chicago, one of the premier SharePoint Conference companies in North America, is happy to welcome Aspera as a gold sponsor. SharePoint Fest has brought together the Microsoft SharePoint Product group, the leading SharePoint experts from across the country, and an audience of motivated SharePoint adopters who are looking to enhance their knowledge and find solutions to their SharePoint challenges.
About Aspera
Aspera's unwavering mission is to create the next-generation software technologies that move the world's large data at maximum speed, regardless of file size, transfer distance and network conditions. With the unstoppable explosion of Big Data in a world where IT and networking infrastructures are more diverse and flexible than ever, Aspera focuses on supplying innovative data transfer solutions that help organizations operate and collaborate more effectively on a global scale.
Web Site: http://asperasoft.com
About SharePoint Fest
SharePoint Fest is in its sixth year. It offers a two-day conference (with an optional two days of workshops) that brings together SharePoint enthusiasts and practitioners, with many of the leading SharePoint experts and solution providers in the country.
Attend SharePoint Fest Chicago where attendees will be able to attend workshops and seminars – taught by Microsoft Certified Trainers, Microsoft engineers, and Microsoft MCM's and MVPs – covering Enterprise Content Management, Implementation/Administration, Business Value, Search, Business Intelligence, Office 365 and SharePoint Development. Attendees will be able to choose one complete learning track or mix and match based on what content best meets their current needs.
At SharePoint Fest Chicago, there will be sessions created for SharePoint administrators, software developers, business analysts, information architects, and knowledge workers, which will ensure that attendees walk away with as much knowledge as they desire to truly leverage SharePoint in their current environment.
Web Site: http://www.sharepointfest.com/Chicago