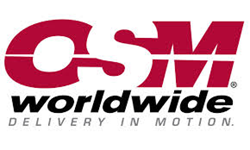 (PRWEB) September 22, 2016
The Smithsonian's National Postal Museum last week launched a new virtual exhibition, "America's Mailing Industry," to showcase the partnership between the U.S. Postal Service and private companies. The story of OSM Worldwide, a leading provider of domestic and international parcel delivery solutions, will be featured in the exhibit's "Fulfillment and Parcel Shippers" section.
The virtual exhibit aims to celebrate and present to visitors the unique history of the mailing industry's public-private partnerships. It will highlight the companies, entrepreneurs and multigenerational family businesses -- who together with USPS -- have helped American citizens and businesses communicate and conduct business for more than 200 years. OSM Worldwide is a USPS partner who assists retailers in meeting consumer demands for fast, reliable shipping in a constantly evolving e-commerce economy.
"America's mailing industry is quite possibly the most successful government–private sector
partnership in our nation's history," said Allen Kane, director of the museum. "We are excited to tell this story, as most people don't even know the industry exists."
OSM has been an approved USPS shipping partner for 13 years. With locations in Illinois, Pennsylvania and Nevada, OSM delivers cost-effective and reliable residential parcel delivery solutions to more than 200 countries and territories worldwide using existing USPS infrastructure. The company began as a family-owned business and has grown alongside the surge in e-commerce, with package count increasing 31.5 percent year-over-year.
"OSM is honored to be featured in this exciting new virtual exhibition," said OSM Worldwide CEO Gaston Curk. "Our vision and mission align closely with the United States Postal Service, and as a partner, we look forward to continuing and strengthening the legacy of the mailing industry in the United States. Both the number of packages and pace of shipment have increased with the rise in online shopping volume in recent years, so it's important to recognize how pivotal private partners of USPS are to our country's economy."
In order to provide a clear and comprehensive picture of the vast and complex world of America's mailing industry, the museum partnered with researchers and experts from USPS, mailing industry associations and private companies, including OSM Worldwide, to present stories of success and service to American consumers and businesses.
The partnership between the mailing industry and the postal system is a critical part of the American economy, as its total economic value exceeds $1 trillion and it employs almost 8 million people.
To learn more about OSM Worldwide and its services, visit http://www.osmworldwide.com.
About OSM Worldwide
OSM Worldwide is a leading provider of domestic and international parcel delivery solutions that reach millions of addresses nationwide and around the globe. Only OSM Worldwide features the award-winning OSM Premium Network, which is capable of shipping packages nationwide within 1-5 days, reliably and economically. A recognized preferred shipping partner of the USPS and recipient of the USPS Mail Solutions Award, OSM Worldwide also has global partnerships with major postal authorities all over the world. Businesses that partner with OSM Worldwide enjoy a variety of delivery options, economical shipping solutions, and expert, responsive customer service.
About the Smithsonian's National Postal Museum
The National Postal Museum is devoted to presenting the colorful and engaging history of the nation's mail service and showcasing one of the largest and most comprehensive collections of stamps and philatelic material in the world. It is located at 2 Massachusetts Ave. N.E., Washington, D.C., across from Union Station. The museum is open daily from 10 a.m. to 5:30 p.m. (closed Dec. 25). For more information about the Smithsonian, call (202) 633-1000 or visit the museum website at http://www.postalmuseum.si.edu.