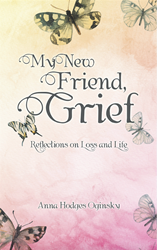 I share my story about embracing greif and opeing to love and compassion in the process with the hope that people who read it will know thy are not alone and see that there is a way through grief
DETROIT (PRWEB) September 23, 2016
All people experience the death of a loved one. Whether that is a dear friend or a family member – death is promised to everyone in life eventually. It's when death actually hits and emotions that accompany it are overwhelming that the individuals seek help and hope.
After the unexpected death of her father, Anna Oginsky, noticed how individuals don't create enough space and time in their lives to actually grieve losses. Knowing how lonely and debilitating grief can be, Oginsky decided to write, "My New Friend, Grief."
In "My New Friend, Grief," individuals will follow the raw and painful details of the months that Oginsky experienced after her father's death. The book shares how Oginsky took time to grieve, while also revisiting other painful life experiences.
"I share my story about embracing greif and opeing to love and compassion in the process with the hope that people who read it will know thy are not alone and see that there is a way through grief," Oginsky said.
Even though death can be excruciating, loss is inevitable in everyone's lives. Allowing oneself to fully experience loss strengthens a person's resilience to loss and life. By reading "My New Friend, Grief," readers will be inspired to grow and also be encouraged that there is light at the end of the tunnel.
For more information, visit http://www.annaoginsky.com
My New Friend, Grief
By: Anna Oginsky
ISBN: 978-1-5043-5650-3
Available in softcover, hardcover, e-book
Available on Amazon, Barnes & Noble and Balboa Press
About the author
Anna Oginsky holds a bachelors degree in Humanities from Michigan State University and a Master of Social Work from the University of Michigan. As the owner of Heart Connected, LLC, Oginsky's work is inspired by connections made between spirituality, creativity, and community. Oginsky currently resides in Michigan with her husband and their children.
# # #
**FOR IMMEDIATE RELEASE**
For review copies or interview requests, contact:
Katie Wenclewicz
317.602.7137
kwenclewicz(at)bohlsengroup(dot)com